Impeller / Propeller / Turbine - Agitators / Mixers
Chemineer HT & HTM High-Torque Agitators are Ideal for Demanding Processes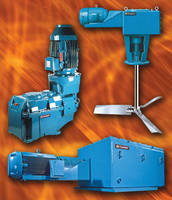 Dayton, Ohio - The Chemineer HT & HTM High-Torque Agitators offer proven, reliable performance in demanding processes such as chemical reactors, fermentations, gas dispersion, polymer reactors, flue gas desulfurization, mining and waste treatment.

Torque ratings are up to 1.3 million in-lbs. (1,000 hp+) for the HT, 2.5 million in-lbs. (2,000 hp+) for the HTM parallel shaft design and 7 million in-lbs. (5,000 hp+) for the HTM right angle units.

Chemineer HT and HTM gear drives provide long service life, low maintenance and superior performance in critical processes. Specific product features include:


Spiral bevel and helical gearing that increases service life

Oversized solid internal shafting to extend gear and bearing life

Dry well seal to eliminate oil leakage

Agitator drives assembled in the factory prior to shipment to save installation time and money

Right angle drive provides a balanced design and reduces headroom requirements

Mechanical run tested prior to delivery for proper field functioning

Other features and benefits of the HT and HTM agitators include both standard and optional shaft designs and a variety of impeller and sealing options to satisfy a broad range of application requirements.

Chemineer, Inc., a unit of Robbins & Myers, Inc., is dedicated exclusively to mixing technology and the manufacture of quality equipment for fluid agitation applications. Chemineer has operations in Dayton, OH; North Andover, MA; Derby, England; Mexico, D.F.; Singapore, China, India and Brazil. For more information, visit, www.chemineer.com.


Related