Chassis Plans Cots/Industrial(TM) Rugged Chassis Selected for Solidworks® 2008 Rollout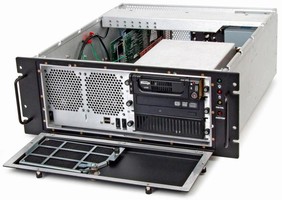 San Diego, CA - October 5, 2007 - Chassis Plans announced today their Cots/Industrial(TM) chassis used for the Long Island Rail Road Audio/Visual Paging Systems was demonstrated in the Solidworks® 2008 Rollout.

The use of Solidworks was instrumental in assuring the very fast 2 week design cycle for this important project. Solidworks' design suit and analysis tools provided high confidence the design would work and be manufacturable. Solidworks COSMOSWorks® and COSMOSFloWorks® provides for system mechanical and cooling analysis to verify good design practices used in the initial design layout.

The Cots/Industrial 4U Chassis is an innovative design providing for mounting a Long Life Industrial ATX motherboard, industrial power supply, internal hard drives and three 5-1/4" drive bays. The drives, including the externally accessible drives, are mounted on a fully shock isolated sub-carrier to protect the drives in the harsh environment found in the communication centers adjacent to the tracks these systems are mounted into.

Enhanced card retention tailored to the plug-in card configuration for this system assures the cards stay fully seated during all shock and vibration events.

The front door uses captive thumb screws and a key lock to firmly seat the door in the milled front panel for dirt exclusion and EMI control. An air filter in the door protects the system from the high dirt loads in the subway environment. Two high flow 80mm fans provide good system cooling as shown in thermal cycle testing.

Chassis Plans is providing a semi-custom 4U enclosure designed with shock isolation for an operating vibration specification of 5 to 500Hz at 1G and 10G of operational shock. The system has a 20-inch depth and a weight, integrated, of 33 pounds. Each system provides a 3.2GHz P4 with 2GB of Ram, an 8GB solid state hard drive, video card, digital I/O card, two isolated RS422 serial ports, Watch Dog Timer, as well as a high end audio processor for station paging and is configured with Windows XP.

About SolidWorks Corporation
Solidworks Corporation, a Dassault Systemes S.A. (Nasdaq: DASTY, Euronext Paris: #13065, DSY.PA) company, develops and markets software for design, analysis, and product data management. It is the leading supplier of 3D CAD technology, giving teams intuitive, high-performing software that helps them design better products. For the latest news, information, or a live online demonstration, visit the company's Web site (www.solidworks.com) or call 1-800-693-9000 (outside of North America, call +1-978-371-5000).

About Chassis Plans
Chassis Plans is a recognized leader in manufacturing fully configured turn-key rackmount solutions for the industrial, rugged, and military markets. They manufacture 1U to 6U ATX and Single Board Computer systems tailored exactly to customer application requirements. They also manufacture a full line of rack mount and panel mount LCD displays and keyboard drawers.

Chassis Plans specializes in long-life product support offering unmatched in-house custom enclosure design, long-life industrial motherboards and SBC's with strict revision control and material obsolescence management for trouble free program deployment. Chassis Plans' Systems are Engineered to Perform. All Chassis Plans products are backed by a full two-year warranty and Chassis Plans' engineer oriented technical support.

For more information about this application, or any Chassis Plans system, motherboard, SBC or backplane product, call (858) 571-4330. You can also visit their website at www.chassis-plans.com or e-mail them at saleseng@chassisplans.com.

SolidWorks is a registered trademark of SolidWorks Corporation. COSMOSWorks is a registered trademark, and COSMOSFloWorks is a trademark of Structural Research & Analysis Corporation. Other brand and product names are trademarks of their respective owners.

COTS/Industrial is a trademark of Chassis Plans.


More from Packaging Products & Equipment