Championship Bout Held at ICI Expo: Alumina vs. Fused Silica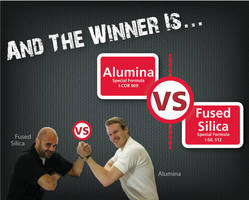 PECATONICA, IL – Which of Ipsen's special formulas do you prefer – the refractory body of Alumina that can withstand exceptionally high temperatures and reduces cracking during thermal cycling or the flexible, clay-bonded body of Fused Silica which provides more thermal shock resistance? Ipsen engineers developed both formulas over several years to be long-lasting, handcrafted and durable. Both can be cast into a variety of shapes. And both come with great initial lead times and Ipsen's committed and responsive service.

"Who will you choose?" was the question posed by Ipsen Ceramics in the months leading up to the Investment Casting Institute's 60th Anniversary Conference and Expo Oct. 7-8, in Pittsburgh, PA. Visitors, both at the Expo and online, were encouraged to vote for whichever special formula they use in their custom firing processes. Voters for Alumina were large and in charge, easily outnumbering those preferring to use Fused Silica for making their ceramic parts. One lucky voter won an iPad! The prize went to Daniel Shelton, senior foundry process manager at Consolidated Precision Products in City of Industry, CA. To see just how tough the competition got between Alumina and Silica, check out Alumina's not-so-modest acceptance speech and the events leading up to it at http://bit.ly/IpsenCeramicsICI2013.

"Throughout the Expo, we were able to connect with more than 40 different companies at our booth, where we tallied votes, answered questions and gave away Ipsen beach balls and pens," said Dan Binz, Senior Sales Associate, who represented Ipsen Ceramics at the Expo.

About the ICI Conference and Expo
The ICI Conference and Expo is consistently the largest gathering of companies, suppliers and students solely dedicated to the investment casting industry. More than 90 companies showcased products and services related to the industry. In addition to exhibitor booths, event highlights included presentations of Intern Scholarship Awards, Casting Contest Awards, technical papers and a panel discussion. Nearly 700 people attended the 2013 ICI Conference and Expo, the second best attendance ever.

About Ipsen
Ipsen Ceramics, founded in 1952, as a department of Ipsen Lab of Rockford in Rockford, IL, was incorporated as a separate company in 1957. Ipsen Ceramics has grown to become a recognized world leader in the design, development and manufacturing of technical ceramics and remains dedicated to these efforts. Ipsen Ceramics is also a leader in performing Custom Toll Firing with temperature firing capabilities up to 3000°F (1760°C). Ipsen Ceramics remains focused on providing superior service and quality products at a competitive price. Choosing Ipsen means choosing a partner in success. For more information, please visit ipsenceramics.com.
More from Agricultural & Farming Products