Ceodeux Puretec Releases Removable Connector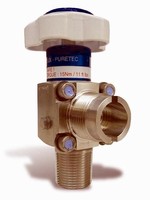 MT. PLEASANT, PA (November 29, 2007) - Ceodeux S.A. Puretec (Ceodeux) has recently introduced the D995 (Removable Outlet Cylinder Valve) for sale worldwide. This product was released to the market November 29th and is available for order, already assembled for use by gas companies and gas fillers, (not intended for end users to replace).

The replaceable outlet valve offers a solution to the costly problem of damaged outlets. Damage to the valve outlet, even as simple as a scratch on the torroid surface, can result in the rejection of an entire package. With the replaceable outlet technology, the valve outlet itself can be removed and replaced with a new outlet. This will significantly reduce costs incurred from blowing down the cylinder, possible loss of product, and labor, as well as having to replace the entire valve.

Ceodeux's technology incorporates safety and functionality. Tamper-evident bolts secure the outlet to the valve body, as replacement should only be done by qualified personnel. The outlet connection features a double-seal for extra safety, with the primary seal available in a selection of materials based on gas compatibility. Additionally, the outlets on Ceodeux's valve are connection-specific so that only the same connection number can be replaced onto the valve body.

Ceodeux has consulted with the industry over the years as to what features would be most sought after, and has used years of experience to develop this product. Best of all, the same trusted valve technology that is in all Ceodeux valves is inside the innovative D995.

Ceodeux began in 1922 in Luxembourg. Ceodeux valves together with Rotarex equipment are available worldwide, and are a "source-to-process" supplier for gas handling. For more information on Ceodeux and their complete list of products and services call 1-800-325-5721 or online at www.ceodeux.com.


More from Material Processing