CEC Centrifugal Impeller (EC)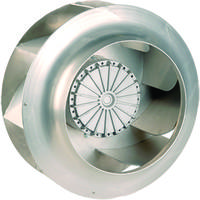 CEC Centrifugal Impellers are superbly crafted, precision balanced air moving packages that feature superior performance in a compact design. By combining the efficiency of a backward curved impeller with the advanced technology of an electronically commutated (EC) external rotor motor, new standards for energy savings and performance have been achieved. The reduced power consumption of the high efficiency motor directly translates to savings.
The CEC is available in a choice of housed or non-housed units. They are ideally suited for many air-moving applications including cooling of motor controls, electronics, power converter cabinets, and modular air conditioners.
FEATURES & BENEFITS
• EC (Electronically Commutated) external rotor motor
• 1-10VDC or PWM motor control
• Dual frequency motor (50 Hz & 60 Hz)
• Maximum speed available across entire voltage range in either 50 Hz or 60 Hz
• Integral EC electronics
• Permissible ambient temperature range: -4 F to 104 F
• Available housed or non-housed
• Capacities to 8,050 cfm
• UL & CE approved
The CEC Motorized Impeller, a better AIRFLOW solution from: CONTINENTAL FAN ... better AIRFLOW by DESIGN™
For more information contact Bruce Gover, or visit us on the web to view our full line of OEM & Replacement Impellers.
Contact:
Bruce Gover
Continental Fan Manufacturing Inc.
T: 800-779-4021 Ext: 302
F: 716-842-0611
USA - Continental Fan Manufacturing Inc.
203 Eggert Road,
Buffalo, NY 14215
T: 716-842-0670, 800-779-4021
F: 716-842-0611
CANADA – Continental Fan Canada Inc.
12-205 Matheson Blvd E,
Mississauga, ON L4Z 3E3
T: 905-890-6192, 800-779-4021
F: 905-890-6193
More from Mechanical Power Transmission