Caster Concepts to Unveil Expanded Ergonomic Product Line at ProMat in Chicago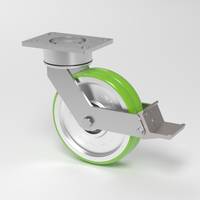 Come see our new higher-capacity ergonomic rig and ergonomic accessories at booth #S2774 and attend the press conference at 11:15 a.m. on Monday, April 3.
Albion, Mich - Caster Concepts Inc. (CasterConcepts.com) will showcase three additions to its ErgoMaxx line of ergonomic products (including heavy-duty industrial casters, rigs, wheels and accessories) at ProMat 2017, April 2-5 in Chicago.
Caster Concepts will unveil a maintenance-free rig (Series 77 Rig) designed to support wheels up to three inches wide, making it able to support heavier loads while providing ergonomic benefits to reduce injuries from overexertion, one of the leading causes of injury in the workplace.
Also debuting will be the Foot-Actuated Brake and a Foot-Actuated Swivel Lock, both providing relief from common workplace injuries caused by bending, reaching, twisting and turning required to engage traditional caster brakes and swivel locks. Exertions and bodily injuries due to twisting, bending, reaching and other movements cost U.S. businesses more than $4 billion annually, according to the 2016 Liberty Mutual Workplace Safety Index.
"Our ergonomic products are designed to address four of the 10 leading causes of injuries in the workplace, totaling over $20 billion in direct annual costs to U.S. businesses," said Dr. William Dobbins, president and CEO of Caster Concepts and a physician. "We're not taking anything away from productivity. In fact, we're giving our customers safety that produces results in the workplace."
With the development and launch of the Series 77 Rig, Caster Concepts has expanded its maintenance-free product line to include an ergonomic rig that supports up to 3,500 pounds and wheels up to 10 inches in diameter and as wide as three inches. This new rig, when combined with a TWERGO® wheel, provides an ergonomic solution with a higher weight capacity and increased productivity while reducing the risk of injury.
Caster Concepts will also debut two foot-actuated products, a brake that stops wheels from rolling, and a swivel lock that, when applied, keeps swivel casters from rotating.
The Foot-Actuated Brake and the Foot-Actuated Swivel Lock are both designed to reduce the risk of injury to the operator. Both systems feature a foot pedal placed in an easy-to-reach fixed location. The pedal on the Swivel Lock will never rotate under a cart, ensuring immediate, safe and easy access.
The Foot-Actuated Brake and Swivel Lock Brake include the following unique design features:
Complete elimination of cart movement (when both are combined)
Quick engagement and disengagement
Foot activation, eliminating the need to bend, stretch or reach
Increased braking capacity with the addition of multiple brakes to the cart's casters
Stationary placement of the swivel lock, which eliminates the need for bending and searching for pedals that have rotated under the cart.
Caster Concepts' engineers relied on customer input to design each device and improve worker safety. Traditionally, brakes on casters have been designed with levers that are hard to reach because they have rotated under the cart, requiring the operator to reach farther, bend and twist more, and increase the risk of injury.
"Our Foot-Actuated Brake and Foot-Actuated Swivel Lock provide substantial safety benefits to employees," Dobbins said. "Operators have been injured by carts that shift even when in park, and while bending down to search for the brake lever that's hard to reach. We have completely eliminated both of these concerns."
About Caster Concepts
Caster Concepts designs and builds industrial casters and wheels for virtually any application. ISO 9001-2008 certified, Caster Concepts manufactures heavy-duty products to withstand impact, corrosion, temperature extremes and industrial chemical environments. Caster Concepts multi-functional casters and wheels provide solutions in industrial, automotive, food service, aerospace, material handling and many other demanding markets. Visit www.casterconcepts.com.
More from Electrical Equipment & Systems