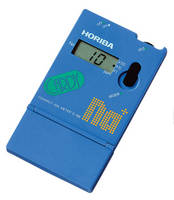 Revolutionary flat sensor adds convenience

The flat sensor built into Cardy's replaceable module makes the measurement in small samples and solids much more convenient. The recess acts as its own sample vessel, often eliminating beakers and bottles altogether. If replacement is ever needed, the sensor cartridge snaps in and out of the instrument at a touch.

Integrated design couples economy with quality

A whole Cardy system - meter, sensor and standards - costs much less than most ion-selective electrodes. The replacement sensors are many times less expensive. You even economize on samples and solutions since you need only a few drops to make the measurement. Cardy meters are high quality, low upkeep measuring instruments.

Ultra-slim, ultra light shirt pocket portability enhances convenience

The size and weight of cassette tapes, Cardy meters slip neatly into your shirt pocket. They are the portable instruments for simple, quick measurements wherever and whenever needed.

Automatic range switcing affords broad measurement range

All Cardy ion meters have a total display range of 0 - 99 x 100 ppm in three automatically switched ranges: the x1 range, the x10 range (100 to 990 ppm) and x100 range (1,000 to 9,900 ppm). This gives the meters a broad display range and makes it easy to get precise results across measurement ranges of 23 - 2,300 ppm Na+, and 39 - 3,900 ppm K+.

Newly developed ion selective electrodes improve durability

New high molecular weight polymers are longer lasting and more resistant to contamination, giving you more trouble-free service and saving money on replacements.

More from Non-Industrial Products