Buck-boost Transformers for Industrial Equipment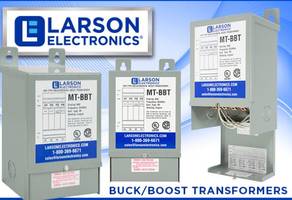 Protecting expensive equipment in your business starts with meeting power/voltage requirements of the particular machine or device (lighting systems, machines, HVAC systems and more).
One of the best ways to manage power loads is by installing a buck-boost transformer in your system!
These units, also classified as an autotransformer, can help increase (boost) or decrease (buck) supply line voltage to ensure compatibility and reduce risks associated with failure.
Benefits of using a buck-boost transformer includes the following:
Preserve equipment lifespan
Increase efficiency/productivity rates
Reduce energy bills
Decrease heat emission
Long-term savings by foregoing costly maintenance/repair
At Larson Electronics, we offer an assortment of single phase, three phase delta and three phase wye buck-boost transformers. You can choose from various kVA ratings, voltage configurations and amperages.
Our buck-boost transformers provide maximum flexibility for businesses.
Equipped with NEMA 3R ratings, you can install them in indoor or outdoor spaces. For compliance with sound level guidelines, the transformers adhere to NEMA ST-20 standards.
Need buck-boost transformers ASAP? We keep these in-demand devices in stock – they're ready to be shipped immediately!
Check out all of our buck-boost transformers below:
Explosion Proof Lighting
Power Distribution
Light Towers
String Lights
LED Lights
Explosion Proof Cameras
For more information about our industrial lighting fixtures, please visit the Larson Electronics website: http://www.larsonelectronics.com
Call 800-297-4352.
Larson Electronics
9419 E US HWY 175
Kemp, Texas 75143 US
More from Mounting & Attaching Products