Bridgeport's Zinc Alloy Fittings Listed for Use with Aluminum EMT Means Contractors Can Install an EMT System that Won't Rust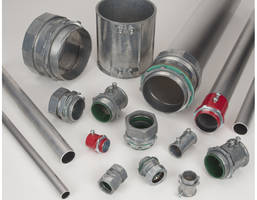 STRATFORD, Conn. (April 19, 2017) – Electricians have often asked, "Why doesn't an EMT manufacturer make corrosion-resistant tubing that won't rust." Now with aluminum EMT, contractors have their wish and can put away their rigid conduit threaders and reamers.
Aluminum EMT is the perfect material choice for indoor or outdoor, damp, wet or exposed environments. With Bridgeport's line of Listed Zinc Alloy EMT connectors and couplings, contractors can quickly install a lightweight, corrosion-resistant EMT system that won't rust.
The Bridgeport zinc solution, with aluminum EMT, provides countless advantages for the contractor: inherent corrosion resistance, lighter weight, no dissimilar metal concerns, easy fabrication, and a pleasing appearance. The Listed fittings also make for easy inspections.
Bridgeport's Zinc Die Cast Fittings Listed for Use with Aluminum EMT are part of Bridgeport's full range of electrical solutions that can be found in the "Wall of Orange™" – a completely stocked selection of quality electrical fittings and innovative product solutions available from major electrical distributorships across the U.S. and Canada.
A complete list of fittings approved for use with aluminum EMT can be found:
http://www.bptfittings.com/Public/Documents/LiteratureLibrary/Brochure/BPT%20FITTINGS%20LISTING%20for%20Aluminum%20EMT.pdf
For more information about Bridgeport's solutions that help contractors become more productive on the job site,
Contact:
Bridgeport Fittings, Inc.,
705 Lordship Blvd.,
Stratford, CT 06615;
Tel: (203) 377-5944;
Fax: (203) 381-3488;
or visit Bridgeport's Website at http://www.bptfittings.com and click on the Literature Library.
More from Packaging Products & Equipment