Brady Debuts QR Code Labels on its BMP®61 and BPP®31 Printers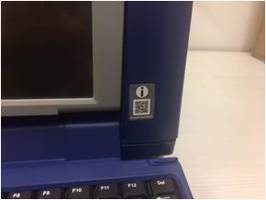 Scannable labels provide users with quick printer and registration information
MILWAUKEE, Wis. (November 22, 2016) - Brady (NYSE:BRC), a global leader in industrial and safety printing systems and solutions, today announced its inclusion of QR code labels on BMP®61 and BBP®31 printers. These QR codes can be scanned with a QR code app on mobile devices to quickly take users to a printer-specific webpage on BradyID.com.
"Incorporating QR codes directly onto the printers puts printer information right where users need it," says Lori Aeschbacher, global product manager for benchtop printers at Brady. "With a quick scan, users have access to printer manuals and registration, label information and how-to videos – all right at their fingertips."
Brady started putting QR code labels on printers in production in November, while printers in the field will receive labels from the area territory manager or when the printer comes in for service. These labels will only be applied to the North American versions of the printers and will be expanded to other Brady printers in the future.
For More Information
For Brady's complete product offering, visit BradyID.com.
About Brady Corporation:
Brady Corporation is an international manufacturer and marketer of complete solutions that identify and protect people, products and places. Brady's products help customers increase safety, security, productivity and performance and include high-performance labels, signs, safety devices, printing systems and software. Founded in 1914, the Company has a diverse customer base in electronics, telecommunications, manufacturing, electrical, construction, medical, aerospace and a variety of other industries. Brady is headquartered in Milwaukee, Wisconsin and as of July 31, 2016, employed approximately 6,400 people in its worldwide businesses. Brady's fiscal 2016 sales were approximately $1.12 billion. Brady stock trades on the New York Stock Exchange under the symbol BRC. More information is available on the Internet at bradycorp.com.
Brady Corporation,
6555 W. Good Hope Rd.
Address Line 2, Milwaukee, 53223 Wisconsin,
United States
Media Contact:
Casey Schaak,
(414) 438-7029
Lori Aeschbacher,
(414) 228-3384
Lori_Aeschbacher@bradycorp.com
More from Machinery & Machining Tools