Bradley Thinks 'Out of the Box' with Complete Line of Refined Diplomat Washroom Accessories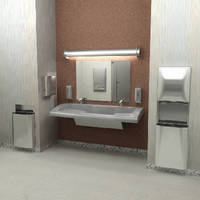 MENOMONEE FALLS, WIS., - Architects and designers who are tired of traditional and boxy-looking washroom accessories now have a curvier and more contemporary alternative with Bradley's new Diplomat(TM) Series (http://www.bradleycorp.com/diplomat/).

The unique, dual-curve geometry design of Diplomat's dispensers and receptacles offer a sleek and elegant finishing touch to any commercial restroom. Made of sturdy polished stainless steel, Bradley designed and constructed the Diplomat Series to be highly durable for even the highest-traffic restrooms.

With more than 50 different product models available - the widest selection in its class - the Diplomat Series provides a common aesthetic and complete look that beautifully elevates a restroom's look from non-descript to refined distinction. Offering architects unmatched design flexibility, Diplomat models can be specified with a number of exclusive features.

For example, towel-roll dispensers include manual, automatic or customer choice for roll-towel options. Most popular brands of towel rolls fit, eliminating the unsightly holes in the walls when towels are changed. This also means less wasted paper and easy maintenance.

Likewise, folded towel dispensers are easy to load and service, and toilet tissue dispensers roll toilet paper out freely with no binding, so there are no more wasted half rolls. Through-partition tissue dispensers are also available.

The soap dispensers accept all liquid soaps and hand sanitizers, while guarding against soap clogging and saving maintenance costs. Tested for hundreds of thousands cycles, this new unit is extremely durable and will stand up to high traffic situations.

Napkin/tampon vendors are ADA-compliant with no jams or false feeds, while the napkin/tampon waste receptacles accept all after-market industry liners.

Waste containers also promote a clean restroom look by concealing trash bags with internal hooks. Seat cover dispensers complete the line of Diplomat accessories.
Finally, for added convenience and faster service and maintenance, a single standard key works on all models.

"We are excited to introduce the Diplomat Series to architects and designers, based on its sleek and modern look, its wide selection of models, and its many exclusive features, says Connie Beuche, Division Product Manager, Washroom Accessories, Bradley Corp. "Diplomat accessories immediately upgrade the aesthetic in any restroom, while their durability and convenience features will save on maintenance time and related costs."

For 90 years, Bradley Corporation has designed and manufactured commercial washfountains, and today is the industry's exclusive source for plumbing fixtures, washroom accessories, partitions, emergency fixtures and solid plastic lockers. Serving commercial, industrial, health care, recreation, education, and corrections markets worldwide, Bradley is headquartered in Wisconsin. For more information, contact Bradley, Telephone: (800) Bradley; Fax: (262) 251-5817; http://www. bradleycorp.com.


More from Architectural & Civil Engineering Products