Bowtie Engineering to Market Electrical Safety Product Line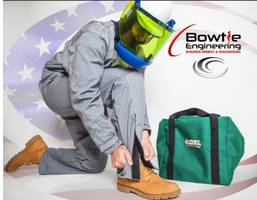 Electrical safety company to sell Made in America electrical safety tools and Personal Protective Equipment (PPE) direct to their customers
ATLANTA, Dec. 1, 2016 - Bowtie Engineering, an electrical safety engineering consulting firm, announced today that the Atlanta-based company is launching a new Made-in-America product line of electrical safety tools and Personal Protective Equipment (PPE).
Bowtie works nationally with clients on electrical power studies, electrical maintenance, electrical safety programs and electrical risk mitigation. "When we conduct an electrical system study, the study's data supports the PPE and tools clients need to meet industry safety requirements," said John Welch, Bowtie Engineering CEO. "Now we can offer, at discounted prices, the safety gear needed which makes a business case to keep capital costs in check."
More importantly, Bowtie has taken the middle man out of the sale. "Clients get products at heavy discounts, and we know they are buying the right gear for the right task," he said. "Having the correct PPE and tools is obviously crucial, but it is even more important today because OSHA is increasing fines for companies that experience electrical accidents."
Among the PPE products Bowtie offers are arc-rated flash suites, shock-rated rubber gloves, fan and light hoods, insulated tools, arc-rated hooded jackets, jackets and bibs, coveralls, and long fire-resistant coats. A full line of Bowtie offerings is available at bowtieppe.com.
All Bowtie safety equipment and tools meet National Fire Protection Association (NFPA) 70E, ASTM, requirement, and OSHA regulations. In addition, every product the company offers is made in the United States. Bowtie, which has its roots in industrial Detroit, is committed to only marketing products made in America.
This commitment is one of the reasons Bowtie partnered with OEL Worldwide, manufacturer of the Bowtie PPE and tools. "All OEL products are made in the United States, which makes the company a natural fit with Bowtie," said Welch.
Bowtie Engineering, a solutions-based systems engineering/integrated consulting firm, specializes in electrical safety. The company, staffed by engineers who are experts on NFPA standards and OSHA regulations, is headquartered in metro Atlanta and has offices in Houston and Detroit.
For information, contact
Diane Bates
678.438.3674,
for sales information, contact sales@bowtie8.com.
SOURCE Bowtie Engineering
More from Fasteners & Hardware