Bourn & Koch Launches New "Composite Platform" Products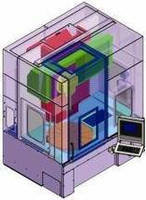 First Machine to be Exhibited at the AGMA Gear Expo as a Vertical OD/ID Grinding Machine

The first iteration of Bourn & Koch's new 1000 mm size series composite platform machine will be completed in the 3rd quarter 2009. The first configuration of this innovative design is a (1) one meter CNC vertical OD/ID grinder, with hard finishing turning capabilities. It will be first shown to the public at the AGMA Gear Expo, September 15-17, 2009 in Indianapolis, IN.

he Bourn & Koch composite platform machine is a basic, low cost common building block, with innovative technologies that allows the common building blocks to be configured to

o a vertical OD/ID grinding machine with hard finish turning capabilites or

o a vertical turning center or

o a vertical gear shaper or

oa vertical rotary surface grinder

each with its own set of innovative associated optional features that enhance the basic machine, peculiar to its machining application.

You can read more in the full press announcement, a PDF available from our website.

Bourn & Koch embarked on an initiative in 2007 to bring to the global market innovative products to replace the legacy lines of Motch and Bullard turning centers, Springfield vertical grinders, Blanchard vertical rotary surface grinders and Fellows mid range mechanical stroking gear shapers. Bourn & Koch is the OEM of these product lines. The result in 2008 was the creation of the "composite platform" machine. For Bourn & Koch the "composite platform" machine is a basic, low cost building block with innovative, no or low maintenance technologies, and integral and linear motors with high precision feed back that can be a vertical grinding or vertical turning machine, or a vertical rotary surface grinder, or a gear shaper, or any combination machine of these processes. Each process configuration has its own set of innovative associated optional features that enhance the basic machine. The "composite platform" incorporates functionality to enhance flexibility to incorporated optional features not available in present machine platforms.

Other specialty machine possibilities also present themselves with the new composite platform. The initial series of machines were specified to be 1000 mm in capacity.

The design allows Bourn & Koch to stock composite platform base units, columns and cross slides - normally the longest lead and most expensive components of the old legacy designs. Stock base units reduce the build cycle by at least 6 weeks.

The key design advantage of composite platform design is the significant reduction in total assembled part count, common compenents, less assembly time, no or low maintenance, faster installation and faster startup times.

For the potential customer the benefit is a lower purchase cost since the new machine design build cost is less than the build cost of a new machine of the old legacy design.

From a customer perspective Bourn & Koch can offer simple composite connected machines for multiple machining operations - for example, turning, drilling, OD or ID grinding, and gear shaping - all with connected individual machines that essentially share similar parts and technologies.

The new Bourn & Koch 1000VBG Vertical Grinding Machine is being completed with several innovative optional features. One feature benefit option to be displayed on the machine is the gear inspection software with circular geometry inspection system for inspection of roundness and runout. This feature allows gear manufacturers to grind hardened gear ID's and OD's concentric to the pitchline of a finished gear.

The Bourn & Koch 1000VBG is manufactured to both domestic USA standards and to European CE standards. Standard CNC control is a Siemens 840D.

Quotes are currently available for the one meter, 1.5 meter, and 2.5 meter versions, the 1000VBG, a 1500VBG, and 2500VBG.

To receive a detailed, budgetary quick quote for the AGMA Expo show machine, 1000VBG, please see the specification and submit it online.

Other machine budgetary quotations are available on our Quick Quote page.

More from Agricultural & Farming Products