Bosch a Partner of Hong Kong's Asiaworld-Expo Major Fire and Voice Alarm Project for New Event Center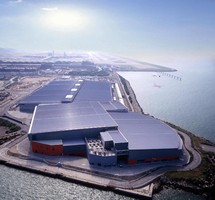 o Ensuring safety and security at Hong Kong's biggest exhibition and events center
o Proprietary Local SecurityNetwork* fire and alarm monitoring
o Integrated, optical-fiber public address and emergency evacuation system

Bosch Security Systems has supplied fire and emergency voice alarm systems to Hong Kong's new AsiaWorld-Expo exhibition and events center.

Completed in December 2005, AsiaWorld-Expo adjoins Hong Kong's Chep Lap Kok International Airport built on a man-made island 25 kilometres from the city. With more than 70,000 square meters of rentable exhibition, conference and entertainment space, the new center is Hong Kong's largest event facility.

Bosch has provided AsiaWorld-Expo with extensive equipment and accessories from its Universal Intrusion and Fire Alarm Panel 2000 Series together with the Fire Monitoring System and Praesideo, the world's first fully Digital Public Address and Emergency Sound System. The systems are integrated with each other and with external control and emergency monitoring systems. The total project is the largest of its kind in the Asia-Pacific region for Bosch Security Systems.

The fire alarm and detection system monitors 10 exhibition halls, 8 conference rooms, foyers, lobbies, restaurants, shops, concourses and offices on three levels. The fire system interfaces with Bosch's Praesideo PA system that provides general and emergency announcements. Both systems comply with the BS5839 standard for fire detection and alarm systems.

To realize the project - completed within six months from equipment delivery to commissioning - Bosch worked in close cooperation with the main electrical and mechanical contractor, BYME Engineering (Hong Kong) limited. The fire contractor was Windmill Engineering Company Limited, Bosch's partner dealer in Hong Kong.

AsiaWorld-Expo is the only exhibition and events center fully integrated with one of the world's busiest international airports and well supported by an in-venue mass transit railway station. In addition to the airport, opened in June 1998, and Asia-World-Expo, the artificial island includes hotels, a metro railway system, ferry terminals, a 9-hole golf course, retail and entertainment centre, and office complexes.

*registered trademark of Robert Bosch GmbH, Stuttgart

Contact person for press inquiries:
Bosch Security Systems
Erika Görge
Postfach 12 70
85504 Ottobrunn
Germany
Phone: +49 89 6290-1647
Fax: +49 89 6290-1193
E-mail: erika.goerge@de.bosch.com
www.boschsecurity.com

The Bosch Group is a leading global manufacturer of automotive and industrial technology, consumer goods, and building technology. In fiscal 2005, some 251,000 associates generated sales of 41.5 billion euros. Set up in Stuttgart in 1886 by Robert Bosch (1861-1942) as "Workshop for Precision Mechanics and Electrical Engineering," the Bosch Group today comprises a manufacturing, sales, and after-sales service network of more than 280 subsidiaries and more than 12,000 Bosch service centers in over 140 countries.

The special ownership structure of the Bosch Group guarantees its financial independence and entrepreneurial freedom. It makes it possible for the company to undertake significant up-front investments in the safeguarding of its future, as well as to do justice to its social responsibility in a manner reflective of the spirit and will of its founder. A total of 92 % of the share capital of Robert Bosch GmbH is held by the charitable foundation Robert Bosch Stiftung. The entrepreneurial ownership functions are carried out by Robert Bosch Industrietreuhand KG.

Additional information can be accessed at www.bosch.com.

More from Packaging Products & Equipment