Bonito PRO High-Speed Camera Honored with Machine Vision Award in China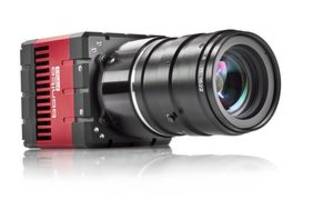 Allied Vision's new CoaXPress camera series wins Editor's Choice award from Control Engineering China Magazine in the machine vision category.
Shanghai, China, September 20, 2018 – Allied Vision's Bonito PRO high-speed camera series received an Editor's Choice award in the category "Machine Vision" during the Global Automation and Manufacturing Summit China held in Shanghai, China on September 20, 2018.
The Global Automation and Manufacturing Summit China (GAMS China) was hosted for the sixth time in a row during the China International Industry Fair in Shanghai, gathering over 300 industry professionals. The event is organized by the Chinese edition of Control Engineering, a leading publication for industry automation and process control.
High frame rates at high resolution
Released in spring 2018, Allied Vision's Bonito PRO is a new camera series combining high-resolution sensors with a high-bandwidth CoaXPress interface. Available with 12 Megapixel and 26 Megapixel sensors from ON Semiconductors, the camera delivers 142 and 79 frames per second respectively at full resolution. This is made possible by the camera's four CXP-6 high-speed connections capable of transmitting 25 Gigabits per second of image data.
With the Bonito PRO, system integrators no longer need to trade off resolution for frame rate and can perform high-precision inspection at high speed. This innovation was honored by the Control Engineering Jury consisting of industry experts.
"We are very proud to receive this award that confirms the performance and innovation of our Bonito PRO cameras", said Chris Zou, Senior Marketing Manager of Allied Vision's Shanghai office at the award ceremony. "This award highlights the scope of Allied Vision's expertise in machine vision, which ranges beyond mainstream industrial cameras to high-resolution, high-speed and infrared cameras for demanding image-processing applications".
Profile of Allied Vision
For over 25 years, Allied Vision has been helping people to see the bigger picture. Allied Vision supplies camera technology and image capture solutions for industrial inspection, science, medicine, traffic monitoring and many more application areas in digital imaging. With a deep understanding of customers' needs, Allied Vision finds individual solutions for every application, a practice which has made Allied Vision one of the leading camera manufacturers worldwide in the machine vision market. The company has eight locations in Germany, Canada, the United States, Singapore and China and is represented by a network of sales partners in over 30 countries.
Contact (Company Headquarters):
Allied Vision Technologies GmbH | Taschenweg 2a | 07646 Stadtroda, Germany
Tel.: +49 36428/677-0 | Fax: +49 36428/677-24 | info@alliedvisiontec.com | www.alliedvisiontec.com
Media Contact:
Jean-Philippe Roman
Allied Vision Technologies GmbH
Klaus-Groth-Str. 1
22926 Ahrensburg             
Germany
Tel.: +49 4102/6688-196
Fax: +49 4102/6688-10
jean-philippe.roman@alliedvisiontec.com
More from Architectural & Civil Engineering Products