Bollards Available with Customizable Colors, Finishes, Domes, Lighting Sources and Lighting Fixtures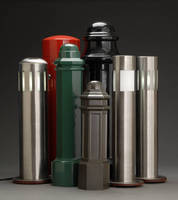 Calpipe Security Bollards Provides Custom and Decorative Bollard Options to Enhance Aesthetic Appeal, Deliver Brand Recognition

DOWNEY, CA - Calpipe Security Bollards(TM), a leading U.S. manufacturer of security bollards, offers a variety of custom and decorative options that combine security with enhanced visual appeal and advanced functionality. Available in an array of lighting options including fluorescent, metal halide, and LEDs, Calpipe's bollards can be tailored to meet virtually any application requirement. The stainless steel or carbon steel bollards can be custom painted using 180 different powder coated colors and finished with an anti-graffiti coating. The top of the bollards can be etched to include a city, company or sports team emblem or logo, delivering aesthetic appeal that provides branding and promotional recognition.

Calpipe also manufactures customized bollards that offer advanced functionality. These innovative bollards are designed to house security cameras and other security equipment, sensors, electrical outlets and water hookups in the hardscape, while providing perimeter protection and pedestrian guidance. Cameras within a bollard hardscape can capture valuable video footage, such as license plates of vehicles entering a facility. Utility bollards enable users to run electricity and water for a variety of applications with locking security access.

Custom and decorative bollards are ideal for office buildings, retail establishments and public areas - such as city centers, historical landmarks, museums and stadiums - that may require a more aesthetically pleasing appearance with advanced functionality.

"Calpipe collaborates with project managers and architectural firms, nationally, from conceptualization to installation. Whatever the style, size, color, material, finish, or decorative element their project requires, we are committed to designing and configuring the right bollard for a customer's project," said Joe Pederson, VP of Marketing and Sales for Calpipe Security Bollards. "With the industry's broadest range and largest selection of security bollards, Calpipe meets both the aesthetic and functional requirements for a wide range of security, architectural and landscaping bollard installations."

Calpipe's security bollards' stainless steel finish is inherently durable even in harsh environments, and their engineered footings and carbon steel inner cores provide added security that stone and concrete bollards cannot. Calpipe offers a wide selection of fixed bollards ideal for maintaining traffic flow or pedestrian walkways, as well as retractable bollards that can make way for vehicles or redirect traffic as a venue's requirements change for specific events.

For more information, visit www.calpipebollards.com; email info@calpipe.com or call 1-877-283-8518.

About Calpipe Security Bollards:

Calpipe Security Bollards, headquartered in Downey, Calif., is a division of Calpipe Industries, and specializes in fixed, removable, and retractable bollards made from carbon and stainless steel. For more information about Calpipe Security Bollards, visit our website at www.calpipebollards.com.


More from Mechanical Power Transmission