Bobcat Company Announces Launch Event for New Line of Zero-turn Mowers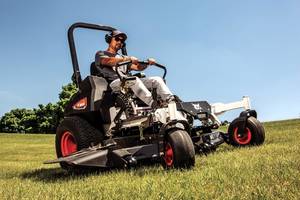 Highlights:
Bobcat Company has announced the launch of a line of zero-turn mowers, with a full unveiling happening during a live announcement on Thursday, Sept. 10 at 5:00 p.m. CST.
Beyond a new look, the new mowers feature key innovations that enhance productivity and durability.
Consumers who register for the live event will be entered to win prizes, including a brand new Bobcat® zero-turn mower.
Bobcat will unveil the new machines on Thursday, Sept. 10 as part of a live streaming video event, where registrants will have a chance to win a new Bobcat mower
West Fargo, ND (August 28, 2020) - Bobcat Company, a global leader in compact equipment, has revealed that they will be launching a new line of zero-turn mowers. Bobcat® zero-turn mowers will be unveiled in an exclusive live event to customers on Thursday, Sept. 10 at 5:00 p.m. CST, featuring product walk-arounds and a Q&A session.
Bobcat acquired BOB-CAT® Mowers in late 2019, making key updates and innovations to the mowers while promoting optimum durability and productivity. The new mowers are currently rolling out to dealerships across the country, but registrants to the live event will get an exclusive first look at the mowers in action, as well as in-depth analysis from industry experts like senior product manager Ron Scheffler. The launch event will show customers how they can rely on Bobcat to handle nearly any mowing task with precision and toughness.
"Our customers have high expectations, and these new mowers are worthy of the Bobcat name," said Mike Ballweber, president at Doosan Bobcat North America. "Whether you're a proud homeowner or a hardworking professional landscaper, you will find a Bobcat mower to help you get the job done."
Fans who register for the public event will be automatically entered for a chance to win one of three prizes, including a brand-new Bobcat zero-turn mower. The public event will also be live-streamed on the Bobcat Company social media channels, Facebook Live and YouTube.
To register for the public announcement on Thursday, Sept. 10 at 5:00 p.m. CST, visit this link: https://bit.ly/31qyoty
About ​Bobcat Company
Bobcat Company is a worldwide leader in the manufacturing and distribution of compact equipment. Headquartered in West Fargo, North Dakota, Bobcat offers a complete line of compact equipment including: skid-steer, all-wheel steer, mini track and compact track loaders; excavators; VersaHANDLER® telescopic tool carriers; utility vehicles; Toolcat™ utility work machines; compact tractors; small articulated loaders; zero-turn mowers; attachments and implements. As a global brand with a worldwide network of dealers and distributors, Bobcat is the industry's original innovator, beginning in 1958 with the first compact machine and predecessor to the skid-steer loader. Bobcat continues to lead the industry by offering quality product solutions and technologies to empower people to accomplish more. For more information, visit Bobcat.com.
For additional information about Bobcat Company, its products and services, point your web browser to Bobcat.com/our_company/media_center.
Contact:
Allison Grettenberg
Public Relations
Two Rivers Marketing
Phone: (515) 557-2074
Email: allisong@2rm.com
More from Computer Hardware & Peripherals