BMT Tooling Now in Stock from Heimatic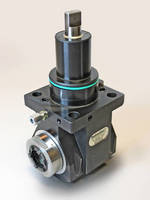 Most standard products available from Chicago inventory



Heimatec, a world leader in live tools, angle heads and multi-spindle drill heads, today announces immediate availability of BMT (Base Mount Tooling) standard products from inventory at its Chicago-area headquarters for the North American market. 



In addition to standard X and Z axis tools, styles such as adjustable tools, speed increasers and internal coolant tools with capabilities to 140 bar (2000 PSI) are now  available in an assortment of standard BMT tooling types, including BMT 45, 55, 65 and 75. 



All Heimatec BMT tooling is supplied with the company's unique U-Tec® flexible machining system, which provides extremely high power transmission via polygonal drive. Integrated collet nut, with easy changeout, can convert the output to arbor (for face mills),  Weldon  or  ER collet extensions.   The U-Tec® system further allows the cutting tool to be in closer proximity to the bearing, which results in much higher rigidity.   The cutting tools last longer and yield an improved finish, as a result of this Heimatec design feature.  



All Heimatec BMT tooling is manufactured at the company's home facility in Germany and is now carried in inventory in the Chicago-area facility, which serves the North American machine tool market. 



Heimatec products are sold through authorized sales representatives and machine tool distributors in North America.  



For further information and literature, or to arrange a demo of this product line, please contact: 



Preben Hansen, President

HEIMATEC INC.

16 E. Piper Lane

Suite 121

Prospect Heights, IL 60070

Phone:  847-749-0633

Fax:  847-749-2445

Email: info@heimatecinc.com



Heimatec is an international tooling manufacturer, based in Renchen, Germany.  Its experienced staff is dedicated to providing customers the most innovative tooling technology possible.  In 2010, the company opened Heimatec Inc. in Prospect Heights, IL, near Chicago, to serve its growing North American customer base with sales and service, plus an extensive inventory of products.  Heimatec supplies the auto, aero, medical, woodworking, composites and other industries, as well as an ever-increasing number of machine tool OEM's worldwide. 



Related