BLM GROUP USA to Feature EM80 "Machining Center" at IMTS 2014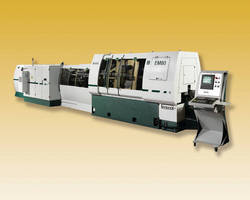 BLM GROUP USA TO FEATURE EM80 'MACHINING CENTER' AT IMTS 2014



BLM GROUP USA (Wixom, MI), (www.blmgroup.com) a global leader in the manufacture of tube processing equipment will showcase the EM80, a combined automatic sawing and end machining center for tube and bar processing in Booth S-9174 at IMTS '14, September 8-13, 2014, McCormick Place, Chicago, IL.



In addition to the EM80 machining center, the company will also address myriad options for tube processing including laser tube cutting, tube and wire benders, tube end formers and cold saws. The company provides machines to a variety of industries such as aerospace, automotive, fitness, recreation, oil and gas industries. Its tube processing applications include processing for products from stadium bleachers to fracking tubes.



The EM80 is an integrated CNC end machining center ideal to cut, chamfer, face, bore, thread and profile tube and bar.



The EM80 handles tube diameters from 10 to 80mm and with wall thickness from 0.8 to 12mm and solid bar from 10 to 65mm. Bar stock lengths from 2500 to 12000mm. The blade cuts utilizing constant chip load technology and travels at 20 to 450m/min.



The unit comes with a bundle loader to handle up to 4,000kg and can be loaded at any time during the operation. A 'conveyor' brings the parts toward a two position chute to allow the parts to be dropped in to the appropriate bin. A second conveyor handles chip removal.



BLM GROUP is a global leader in tube processing solutions. Its product line includes laser tube cutting, cold sawing, bending, end-forming and wire bending machines. With more than 50 years of tube experience and thousands of applications, the company is a leader in the manufacture of tube fabrication equipment.



More from Machinery & Machining Tools