BIG Kaiser to Display Comprehensive Line-Up at South-Tec Booth #1711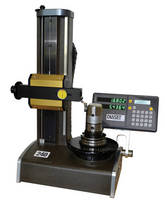 Hoffman Estates, IL – BIG Kaiser Precision Tooling Inc. has been continually expanding its product line while staying true to its mission of bringing the highest quality, most precise, most reliable and most accurate tooling and accessory products to market.



The entire KAISER EWD Series of digital boring heads will be featured-including the brand new 310 medium diameter and 318 large diameter programs, which augment the popular 112 digital program. "These two new lines complement the Kaiser Series 112 EWD 2-54 line of digital precision boring heads for small diameters," says Jack Burley, BIG Kaiser vice president of sales and engineering. "Together, they cover the full range of finish boring needs from Ø.016"-118".



The Unilock Zero-Point Clamping System will also be on display. Unilock uses spring pressure to drive wedges against a tapered wedge lock (clamping knob). Air pressure is used to compress the springs, releasing the wedge lock. The result is quick and repeatable clamping. The product will be shown in 5-axis setups, tombstone configurations (ROC® Mineral Cast), as well as standard table top solutions.



The new Hydraulic Chuck Super Slim line of tool holders, an expansion of the high performance Hydraulic Chuck line, has received a lot of attention lately. The slender body eliminates interference in confined areas-ideal for 5-axis precision machining. Hydraulic Chuck Super Slim types are ideal tool holders for precision finishing processes in confined areas with drills, reamers, ball mills, end mills, diamond reamers and grinding tools.



Two table-top tool presetter solutions will be presented - a new and improved entry-level Diaset contact presetter, and the tried-and-true Speroni MAGIS vision-based table top model. The Diaset, by Innotool Austria, underwent a major design overhaul, including new mineral cast construction, an "easy-run" system for fast axis movement, a more robust spindle and a brand new digital control readout.



Finally, be sure to ask a product expert at the booth about the new Mega ER Grip with a KAISER KAB connection from BIG Daishowa, which is a high quality modular ER collet chuck that completely satisfies the 4 requirements for tool holders; clamping force, concentricity, rigidity, and balance for high spindle speeds. Using existing KAISER modular components, custom tool configurations can be made with standard components.



BIG Kaiser Precision Tooling Inc. is a leader in high precision tooling systems and solutions. With brands including BIG Daishowa, KAISER, Speroni, Unilock, Sphinx and more, BIG Kaiser's line is focused on extreme accuracy and repeatability. BIG Kaiser's mission is to support North American manufacturers with products that are designed and manufactured to a superior standard. Guaranteed.



For more information about any of the products listed above, make sure to visit BIG Kaiser at South-Tec Booth 1711. Or, contact BIG Kaiser, Hoffman Estates, IL 847-228-7660, e-mail bigkaiser@bigkaiser.com or visit www.bigkaiser.com.

More from Fasteners & Hardware