Benchtop Freeze Dry System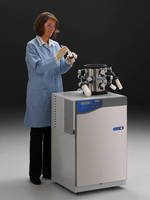 Labconco Corporation, Kansas City, Missouri, presents the FreeZone 4.5 Liter Cascade Benchtop Freeze Dry System. The system has ice holding capacity for light to moderate sample loads and dual refrigeration systems for aqueous samples with low eutectic points. It has a compact benchtop design and includes a 12-Port Drying Chamber. A vacuum pump and sample containers, such as flasks, are the only additional components necessary for a complete system.

An LED panel provides "at-a-glance" display to monitor vacuum in mBar, Pa or Torr and temperature which can be monitored in Cº or Fº. A MENU switch displays system parameters and alarm messages such as power failures, line voltage failure surges or when the collector temperature rises above -40ºC. The automatic start up allows the user to press only one button to initiate the collector cool down and vacuum pull down sequence.

For more information on the 4.5 Liter Cascade FreeZone Freeze Dry System, call 800-732-0031 or download our PDF brochure at www.labconco.com.


More from Packaging Products & Equipment