Benchmarking and Drive Testing Smartphones and Handsets for Voice and Data Quality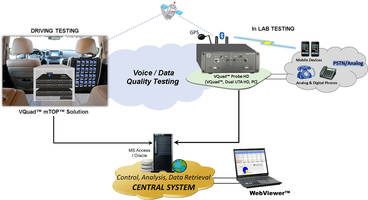 Gaithersburg, Maryland, USA – August 29, 2018 - GL Communications Inc. a global leader in telecom test and measurement solutions, announced today insight into Testing and Benchmarking Smartphones and Handsets for Voice and Data Quality with Drive, Walk, and In-Lab Tests.

Speaking to the press, Mr. Robert Bichefsky director of GL Communications Inc said "Benchmark testing highlight the performance of mobile networks based on various Quality of Service (QoS) parameters laid down by the telecom regulating authority of respective countries. Independent agencies conduct sample 'Drive Tests' across various cities as part of audit for a service provider and assess mobile network performance. Testing requirements include call control, signaling and audio metrics including delay, and network availability and reliability."

"GL has provided its tailor-made QoS suite of products and consultancy services for service providers for benchmarking smartphones and handset tests with a combination of Drive Tests, Walk Tests, Customer Premise tests and In-Lab Tests. In other words, drive test (and possible walk tests) throughout the area using portable testing equipment, both indoor and outdoor, to collect Voice and Data performance metrics. GL's future enhancements will include PEVQ support for video streaming testing directly from the mobile device. Tests include Voice calls (between mobile devices or between mobile and landline devices) along with data and video tests directly from the mobile devices. All networks and mobile devices are and will be supported including but not limited to GSM, UMTS, LTE, VoLTE, 5G." 
He further added, "GL's VQuad™ mTOP™ appliance is designed for conveniently testing many telephony devices simultaneously assessing voice and data performance. In fact the mTOP™ platform supports a variety of GL equipment and is very versatile for both low and high density testing requirements. VQuad™ mTOP™ appliance can be placed in the lab or in a vehicle for drive testing with 12 phones connected. In addition, the portable VQuad™ Probe HD units which support two devices can also be placed in vehicles, used for walk tests, or placed in the lab or customer premise."
Important Features
A 'Single' hardware can support all features - 2 wire (FXO), PTT, and mobile (2G, 3G, 4G, Volte, 5G along with 3rd party applications like Skype, WhatsApp).
Supports 12 fully independent wireless devices (via Bluetooth® or wired headset); systems can be easily scaled up to support more devices
Along with Voice Quality (POLQA – per ITU-P.863), VQuad™ also provides Audio Analysis using P.56, Double-Talk Calculation, One Way and Round-Trip Delay, Audio Dropout Analysis, Frequency and Power measurements.
A single POLQA license can support all VQuad nodes
All the test results/events are include timestamp and GPS location
FXO supports both SD (Narrowband) and HD (Wideband) Audio
FXO Specific Metrics include Line Current, Line Voltage, Ring Voltage, and Audio C-Message
All the results (real-time and historical) can be retrieved from a centralized system using the WebViewer (web browser) with results plotted on Google Maps.
Data Tests can be fully automated using the VQuad scripting controlling the mobile devices.
About GL Communications Inc.,
GL Communications Inc is a global provider of test and measurement solutions and has over the years worked with major telecom equipment vendors, service providers, and system integrators to meet the testing requirements arising at various stages of telecom products development life cycle.

GL offers a broad set of test solutions that help perform all types of testing on networks, from initial system design, to fine-tuning, troubleshooting, live deployment, and monitoring. The products are widely used to verify and ensure 'quality and reliability' of Wireless (4G LTE, 3G, 2G), SONET/SDH, IP, TDM, and PSTN networks.

GL core product development is backed by a dedicated team of R&D experts to match evolving market and technical challenges in a most cost-effective and innovative way.

Contact:
Shelley Sharma
Phone: +1 301-670-4784
E-mail: info@gl.com 
Media Contact: pressrelease@gl.com
More from Software