Cleaning Compounds and Chemicals
Be Proud of Those Rubber Floors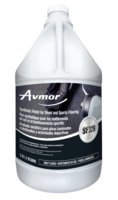 To enhance their longevity and keep rubber floors looking their best, they must be properly cleaned and maintained. Yet few products are made specifically for these floors until now. Avmor's SF326- Synthetic Finish is specifically designed to care for rubber floors.
SF326 is easy to apply and quick to dry. Once applied, it makes cleaning and protecting the floor much easier, usually only requiring a light damp mop. SF326 also leaves a high gloss luster you and your customers will be proud of.
For more information, visit www.avmor.com or call 450 629-80740
About Avmor Ltd.:
Avmor was founded in 1948 by Avrum Morrow and Henry Chinks. Being North America's leading manufacturer and marketer of professional cleaning chemicals and sustainable solutions, Avmor has remained in the industry forefront by providing A More Complete Clean. Avmor's commitment to ISO 9001 and ISO 14001 as well as cGMP (current Good Manufacturing Practices) procedures signifies the importance of delivering and ensuring best in class performance of our cleaning products while remaining competitively priced. Avmor's customized training program and solutions promotes and educates the market about the importance of clean to prevent sickness and disease. Our UL ECOLOGO, GREENGUARD Gold, and FDA certifications attest to our dedication to quality, performance and commitment as well as our responsibility to always provide optimal cleaning solutions while maintaining and enhancing health and safety standards of people and the environment. Avmor Ltd. is a privately held company.
Contact:
Lai-Na Wong
Marketing Manager
Tel: 450-629-8074 Ext. 2320
More from Non-Industrial Products