Batch Ovens Cure Coatings for Aerospace Industry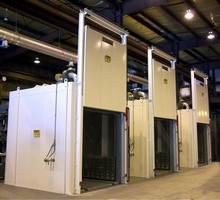 Wisconsin Oven designed and manufactured three (3) gas fired batch ovens to cure ceramic coatings on assorted parts for the Aerospace industry. Each oven has combination airflow, work chamber dimensions of 6'0" wide x 7'0" long x 8'0" high, and 650º F maximum operating temperature.

This customer requested Wisconsin Oven help them with several of their production issues. The problems were assessed and the customer was offered two systems for possible solutions (one continuous system and one batch style system). The customer decided to purchase three (3) batch ovens to help keep up with their growing production demands. This allowed them to utilize each oven for two (2) processes; one (1) for pre-heating, with low temperature operation capability from a gas heated oven and the second process is performed at 650°F (normal curing temperature).

This customer utilized a pilotless burner, powered exhaust blower, and an automatically actuated fresh air inlet and exhaust outlet to maintain a low operating temperature of 100° F above ambient minimum (the modulating damper system can also be utilized for accelerated cooling of the chamber). The customer's uniformity requirement was ±15°F @ 650°F. Each oven achieved ±8.5°F @ 650°F or better with a nine (9) point profile uniformity test. The customer's current batch equipment was unable to perform both processes with gas heating.

Each curing oven features a 7,000 CFM @ 7 1/2 HP recirculation blower, 900 CFM @ 1 HP powered exhaust blower, class A rating for solvents (as defined by NFPA), and modulating damper system. All of the ovens have pneumatically operated vertical lift doors and 2" thick reinforced insulated floors with wheel guides for manually loaded carts that are pushed into the ovens. The controls include a Honeywell UDC 2500 temperature controller (with heat/cool duplex), Honeywell DR4500 Truline® 12" circular chart recorder with heated stylus pen and digital display. The customer also added Wisconsin Oven's energy efficient E-PackTM oven upgrade which includes thicker wall panels, higher efficient motors, a door limit switch, and a few other energy saving items that will reduce their operating costs.

For further details on this equipment, or if you would like to work with us on another application, call Doug Christiansen at (262) 642-6023, or by email at dchristiansen@wisoven.com.


More from Chemicals & Gases