Barclay Mechanical Starts New Wastewater Treatment Project in Washington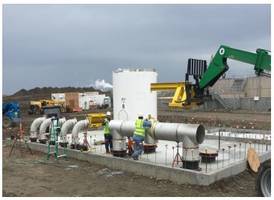 March 8, 2017 - Barclay Mechanical has begun construction on a new wastewater treatment facility in Washington state. The project began with the pre-fabrication of pipes in our welding shop in Utah, and was followed by the installation of these pipes at job site. Barclay's welders are all certified to the specific weld procedures designated by the client, and Barclay Mechanical ensures quality control with each weld.
About Barclay Mechanical
Barclay Mechanical is a heavy industrial general contractor, offering heavy-duty welding and fabrication services. Established in 1980, Barclay has become a leading mechanical contractor - working all over the country in the energy, food processing, production and agricultural sectors. We offer the highest level of quality craftsmanship at competitive prices within specified time-frames. We guarantee safety is our number one focus and pride ourselves in having a company culture which encourages hard work, honesty, fairness, and personal improvement.
Barclay Mechancial
595 W 100 N
Manti, UT 84642
Contact:
Ken Barclay
Work: 435-232-0130
More from Machinery & Machining Tools