Barclay Mechanical Building Pressure Vessels for a Gas Diffuser Vessel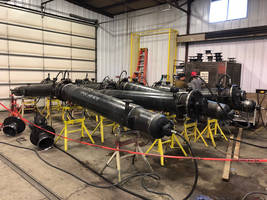 Nov 16, 2017 - We are currently building pressure vessels in shop for a gas diffuser vessel for the Oil Re-Refining Company (ORRCO). ORRCO is an engineering company that invents/develops new oil refinery equipment that enables the recycling of used oil.
About Barclay Mechanical
Barclay Mechanical is a heavy industrial general contractor, offering heavy-duty welding and fabrication services. Established in 1980, Barclay has become a leading mechanical contractor - working all over the country in the energy, food processing, production and agricultural sectors. We offer the highest level of quality craftsmanship at competitive prices within specified time-frames. We guarantee safety is our number one focus and pride ourselves in having a company culture which encourages hard work, honesty, fairness, and personal improvement.
More from Controls & Controllers