Balluff Introduces New Solutions to Improve Production and Label Quality for Print and Apply Machines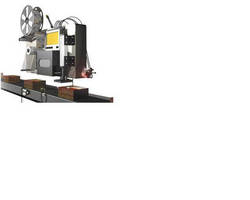 Balluff now has complete solutions that will improve production and label quality by simply adding sensors to the Print and Apply process.

Utilizing proven sensing technologies such as photoelectric sensors, cylinder position sensors, vision sensors, and encoders, these solutions, when installed on print and apply machines, will:

o Anticipate roll change-outs to improve run time

o Increase machine reliability and detect jams automatically to decrease waste

o Verify label composition and placement, thus reducing product rejection

Typical applications for Balluff sensors on Print and Apply machines include:
1. Low Label Roll Detection - detect label roll running low and alert the operator to change it using a Balluff background suppression sensor.

2. Cylinder Position Detection - monitor the position of the pad assembly using Balluff cylinder switches. If the cylinder fails to extend or retract correctly, an alarm is generated.

3. Label Defects and Orientation - verify both label orientation and print quality by using a Balluff Sharpshooter(TM) vision sensor.

4. Label on Pad Detection - prevent label jams or missing labels with Balluff compact sensing heads and remote amplifiers.

5. Triggering the Process - apply labels with precise timing and perform quality inspections by implementing a Balluff threaded t-body GlobalEye(TM) sensor.

6. Conveyor Speed/Position Feedback - determine conveyor speed and position with an inexpensive Balluff rotary magnetic encoder system.

Balluff Inc., the U.S. subsidiary of Balluff GmbH, Neuhausen, Germany, is a leading manufacturer of a wide range of inductive, optical, capacitive and magnetic sensors as well as linear position transducers and ID systems. Balluff products for OEM and factory floor solutions are used to control, regulate, automate, assemble, position, and monitor manufacturing, assembly, and packaging sequences for industries including metalworking, automotive, plastics, material handling, wood processing, aerospace, electrical, and electronics.

More from Fluid & Gas Flow Equipment