Baker Furnace Ships Oxidizing Oven to Nuclear Industry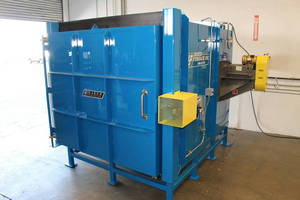 Yorba Linda, CA - October 4, 2016 - Baker Furnace announced the shipment of an Electric Oxidizing Oven for the Nuclear Energy Industry. The oxidizing oven will heat treat Inconel support trays that are used to hold nuclear fuel cell rods in place. The heat treating process provided by the industrial oven will extend the life of the trays and reduce production costs for the manufacturer.



The heat treating oven has a maximum temperature rating of 1350°F and work zone dimensions of 5'W x 5'H x 5'D. The unique Baker Furnace door design offers a lifetime no sag guarantee along with a pneumatic door locking mechanism. A recirculation fan provides approximately 25 air changes per minute through adjustable air distribution via sidewall ducts with the return air at the rear of the work chamber for temperature uniformity of ±25°F at 1300°F. The oxidizing oven utilizes a programmable temperature controller with ramp and soak capabilities.



"At Baker Furnace, our design team focuses on durability and innovation. We have utilized our unique no sag door design with lifetime guarantee on equipment for years and now we are improving it with the added pneumatic door locking mechanism." - Tim Bacon



Unique features of this oxidizing oven include:



 • 316L Stainless Steel interior



 • Pneumonic Door Locking Mechanism



 • 90kW rod style heating elements



 • 3,000 CFM Recirculation Fans



About Baker Furnace



Baker Furnace, Inc. has been designing, engineering, and manufacturing industrial ovens, pollution control equipment and other heating equipment since 1980. Their custom and standard equipment are used for a multitude of applications including heat treating, finishing, drying, and curing. Many of the industries they serve require specific temperature uniformity and equipment performance documentation. Their experienced engineering team is able to meet even the most stringent standards for their customers' equipment.



The goal at Baker Furnace is to exceed our customers' expectations with the highest quality products that are durable, efficient and require low maintenance. Baker Furnace employees work hard every day with a mission for Excellence, Quality and Craftsmanship in everything we build.



Baker Furnace is owned by Thermal Product Solutions ("TPS"), a leading American manufacturer of custom industrial ovens used for heat treating, finishing, drying, curing, manufacturing automation and process control. TPS is a global leader in thermal processing products and test solutions with brands including Blue M, Gruenberg, Tenney, Lindberg, MPH and Wisconsin Oven. For more information on equipment solutions from TPS visit the website at www.thermalproductsolutions.com.

More from Architectural & Civil Engineering Products