AVX'S Miniature 01005 MLCC Reduces Space Constraints, Provides Enhanced ESR Characteristics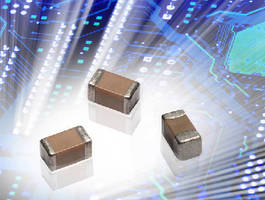 GREENVILLE, S.C. - AVX Corporation, a leading manufacturer of advanced passive components and interconnect solutions, has developed the industry's smallest multilayer ceramic capacitor (MLCC). Designated as the 0101 Series, the miniature MLCC was designed with well-established technologies to precisely control the material and process. Increasing vital board space in PA modules, front-end modules, IC packaging, mobile phones, and other applications where board space is a concern. The 0101 Series MLCC contributes 45% area reduction and 30% volume reduction compared to 0201 MLCCs.

"The 0101 Series miniature MLCC allows designers to shrink board space without sacrificing performance. In addition, designers can take advantage of the
intrinsic benefits of ceramics, such as better DC bias voltage characteristics," said
Kazushige Takamori, product manager at AVX.

These miniature devices provide nominal capacitance ratings of 1.0pF to 22pF and a rated voltage of 16V in NPO, with an operating temperature range of -55ºC to +
125ºC.

Also available in the X5R dielectric, the 0101 Series is RoHS-compliant.

Typical pricing starts at $0.008 to $0.03 in volume with a lead time of 14 weeks.

For more information, contact AVX at One AVX Boulevard, Fountain Inn, S.C.
29644; by calling 864-228-8808; or on the Web at www.avx.com.

About AVX

AVX Corporation is a leading international supplier of electronic passive components
and interconnect solutions with 24 manufacturing and customer support facilities in 15
countries around the world. AVX offers a broad range of devices including capacitors,
resistors, filters, timing and circuit protection devices and connectors. The company is publicly traded on the New York Stock Exchange (NYSE:AVX).

More from Packaging Products & Equipment