Aven ProVue Deluxe LED Magnifying Lamp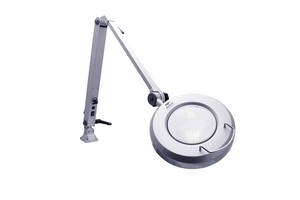 The innovative ProVue Deluxe is a durable and powerful magnification lamp. It features 72 energy-efficient LED lights for bright, shadow-free illumination for your work bench and a round 5-inch, 5-diopter lens (2.25x magnification). These high-intensity LEDs have a minimum lifespan of 20,000 hours and don't generate heat when in use.
The ProVue Deluxe's 36-inch friction arm ensures a large working range, and the 360-degree rotatable lamp head adds extra flexibility. Locking handles keep the lamp in any position. Lack of springs and exposed wires eliminates pinching hazards. The complete aluminum construction is ESD-safe and designed to last a lifetime. The lamp's mounting clamp allows for easy attachment to a table or work bench, or to mount directly to any work surface.
For more information, call (734) 973-0099, view Aven's ProVue Deluxe LED Magnifying Lamp video, or click the link below:
Aven ProVue Deluxe LED Magnifying Lamp: http://www.aventools.com/product/provue-deluxe-magnifying-lamp-led/
Aven now provides a 3-year warranty on all magnification lamps. For full warranty disclosures, please visit http://aveninc.com/warranty/
Aven, Inc. manufactures and distributes high-performance, optical instruments and precision tools for microscopy, inspection and assembly.
A technology innovator since 1983, Aven is located in a high-tech corridor of Southeast Michigan.
4330 Varsity Drive
Ann Arbor, MI 48108
CONTACT:
Mike Shahpurwala
734.973-0099
Related