Aven Cyclops HDMI Digital Microscope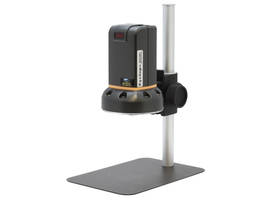 The innovative Cyclops HDMI Digital Microscope connects directly to any monitor through a convenient 1080p HDMI output allowing operators to see high quality images while looking straight ahead at a large screen. This system reduces eye strain and neck fatigue associated with frequent microscope use. Operators may connect their Cyclops to any HD monitor to study 1080p images (monitor not included). The HDMI output and 2-megapixel sensor provides users with exceptionally crisp, high resolution, stunning, HD picture quality. The Cyclops features a magnification range up to 132x on a 21.5" HD monitor. An accessible remote control is included allowing the user to easily set their preferences. Setting options include; optical zoom, brightness, sharpness, freeze frame, white-black balance, video control, snapshot, focus and more. The adjustable illumination allows the user to control the brightness of 30 LED lights, giving operators a variety of lighting options for their applications. The Cyclops comes with a heavy-duty, aluminum stand providing a large working distance for the user.
Aven's Cyclops includes a 2-megapixel sensor, HDMI output, LED illumination with intensity control, large magnification range and long working distance, infrared remote control for all major features, and a heavy duty stand.
For more information, call (734) 973-0099 or click on link below:-
Aven Cyclops HDMI Digital Microscope: http://www.aventools.com/product/cyclops-hdmi-digital-microscope/
Aven, Inc. manufactures and distributes high-performance optical instruments and precision tools for microscopy, inspection and assembly.
A technology innovator since 1983, Aven is located in a high-tech corridor of Southeast Michigan.
4330 Varsity Drive
Ann Arbor, MI 48108
CONTACT:
Mike Shahpurwala
734.973-0099
More from Laboratory and Research Supplies and Equipment