Avalue High-Performance SOM Provide AIoT Solutions in Harsh Environment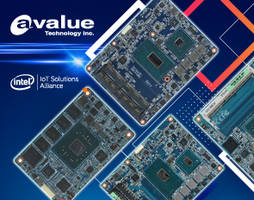 Oct. 2nd, 2019, Taipei, Taiwan –Avalue Technology Inc. (TAIEX: 3479-TW), a global industrial PC solution provider and an associate member of the Intel® Internet of Things Solutions Alliance. Endeavoring to develop industrial-grade computers, Avalue has invested massive R&D manpower and resources into a series of solutions to meet burgeoning growth in AIoT market, creating a win-win situation. Avalue's high-quality SOM (System on Module) take the modular concept to a whole new level, effectively shortening the R&D timeline, facilitating the development of compatible products that adapt to harsh environment, helping customers create infinite possibilities.
Featuring high-performance capability, stability, expandability, low power consumption and modularity, SOM satisfies vertical industry and AIoT applications. Avalue SOM is comprehensive, encompassing different COM Express Types (Type 6 and Type 10) and sizes (mini, compact and basic), and even smaller size Qseven, and evaluation carrier boards and SMARC. Applicable to different environments, Avalue SOM is small and fanless, operate at wide temperature range, feature customized BIOS, low-power-consumption Intel Atom processor, high performance multicore Core i processor, and ARM and AMD platforms. Based on PICMG Standards, signal sources are sufficiently provided for DDI, PCI Express, SATA, USB, SMBus, LPC and DIO, meeting the requirements of various types of carrier boards, allowing customers to adopt and use easily.
Shortens R&D timeline, suitable for vertical industry applications
SOM is especially suitable for vertical industry applications, including human machine interface for industrial measurement, military industry, transportation, smart healthcare, industrial automation, gambling market, multimedia system, smart surveillance and interactive digital signage. Years of extensive experience has enabled Avalue to provide customers with the best solutions for market applications. For instance, ESM-APLM with its Intel® Apollo Lake Type 10 form-factor and mini size COM Express is suitable for industrial automation and train cabin applications; ESM-KBLU with its Intel® seventh generation Kaby Lake-U Type 6 form-factor and compact size COM Express is suitable for the military industry and smart healthcare which require low power consumption and high performance operation; ESM-CFH with its Intel® eighth/ninth generation Coffee Lake-H Type 6 form-factor and basic size COM Express is suitable for the gambling market and multimedia entertainment use which require multi-core operation and powerful processing.
Product development in every industry has to undergo a series of complex processes, including stringent designing, repeated testing and mechatronic integration, and cost and resources have to be spent every generation change. However, using Avalue SOM for product development allows flexible upgrade, and fast and painless product change. Moreover, SOM products have life circle of over 10 years, providing the longest product lifetime.
Complete and inclusive service
1. Professional R&D support
Meeting the demands of the diverse and high-tech SOM applications market with 20 years' experience, Avalue is confident of satisfying every customer requirement. Avalue provides a wide range of R&D reference documents and services, including design guide, design review, carrier board schematic, mechanical drawing, thermal drawing and thermal simulation. If the customer encounters any problem in design, Avalue also provides consultation to help designers solve their problem. Its comprehensive OEM/ODM service satisfy every customer need, including software customization, BIOS modification, OS image making, device driver, BSP support and industry testing program. For details, go to:
https://www.avalue.com.tw/Q7_COMe_ETX_SMARC
2 Quality verification for R&D designs
It is no mean feat to pass Avalue R&D verification team's stringent quality testing process. The meticulous testing plan encompasses electrical test, signal measurement, function test, hardware compatibility test, software compatibility test, life time calculation(MTBF), electromagnetic compatibility, safety test, transportation simulation test, thermal test and reliability test. Avalue deliver uncompromised design quality.
3 Professional technical service
Avalue provides area-specific technical service worldwide. Long-term cooperation with a fixed help center builds familiarity and improves communication efficiency. Customer service personnel's abundant hands-on experience also enables rapid response to myriad situations and problems encountered by customers. Through My Avalue technical service platform, customers can effectively interact with relevant experts to find solutions, and customers need only to focus on their own expertise, e.g. product selling, field application and software development. Furthermore, after-sales service platforms like RMA and DOA allow customers to experience more timely response and service. For details, go to:
https://myavalue.avalue.com.tw/login.aspx
Having an extensive presence in the embedded market for close to 20 years, Avalue strives to develop products needed in various specialized industries. Reliable experience in SOM, quality management and professional technical service better satisfy customer needs, and it is Avalue's mission to help its customers succeed. To find out more about SOM, visit: https://www.avalue.com.tw/products/System-On-Module_15
Visit www.avalue.com.tw for more information on Avalue products, or contact sales@avalue.com.tw to talk to our sales team.
About Avalue Technology
Avalue Technology (TAIEX: 3479-TW) is a professional industrial computer manufacturing company, who is dedicated to developing the x86 and RISC architecture products, including Industrial & Embedded Motherboard, Industrial Computer, Panel PC, System On Module, POS Terminal, Tablet, Software and various IOT ready products. Having expanded, Avalue offers its expertise on PCB/ Assembly/ BIOS version control and all types of after-sales services. An ISO 9001:2008, ISO 13485:2003, ISO 14001:2004 and OHSAS 18001:2007 certified company; Avalue offers assurance to customers in every aspect of business. With headquarter located in Taiwan, Avalue has global subsidiaries, including offices in Shanghai, New Jersey, California and Tokyo. In addition, Avalue Technology operates an extensive distribution network to accommodate and serve customers all around the world.
Media Contact:
Email: pr@avalue.com.tw
More from Electronic Components & Devices