AutomationDirect adds Stainless Steel and Air Differential Pressure Transmitters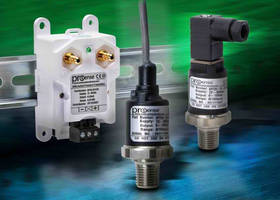 The ProSense SPT25 pressure transmitter series is engineered to meet many industrial, commercial and OEM pressure measurement applications. Compatible with many different media sensing applications, the all stainless steel welded thin film sensing element provides very fast response time. With a pressure sensing range from vacuum to 5,000 psi, transmitters are designed to resist vibration, shock and EMI/RFI while providing high accuracy over a wide compensated temperature range. Models feature a ¼-inch NPT male threaded process connection and are available with linear outputs of 4-20 mA or 0-10VDC and with electrical connections of either a DIN 175301-803C L-connector or a two-meter integral shielded cable. SPT25 series pressure transmitter prices start at $109.

The ProSense DPTA series differential air pressure transmitters are precision engineered for accurate low differential pressure measurement of air and non-condensing, non-corrosive gases. Transmitters are equipped with an ultra-thin single silicon crystal diaphragm capacitive sensor to provide inherent repeatability and stability. These transmitters are designed with brass barbed pressure ports, removable terminal blocks and a rugged ABS housing for DIN rail or panel mounting. The series is available in ranges from 0.1 inches to 25 inches water column to measure positive, negative, and bi-directional pressures, with the ability withstand 15 psi overpressure without damage or calibration shift. Backed with a three-year warranty, prices start at $105

For more information on ProSense pressure transmitters, visit: www.automationdirect.com/pressure-sensors.

AutomationDirect sells over 12,000 feature-packed products through its Online Automation Superstore and 2,750-plus-page catalog. The company offers its customers high-quality automation products at prices typically below the industry average, same-day shipping on in-stock items, the best documentation in the industry, outstanding sales and technical support, and a 30-day money-back guarantee on nearly every product. For a free catalog, access their Web site at www.automationdirect.com or call 800-633-0405.