Audi Expands Use of I.D. Systems' Wireless Vehicle Management Systems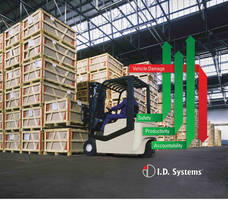 Woodcliff Lake, NJ, USA, and Düsseldorf, Germany - I.D. Systems, Inc. (NASDAQ: IDSY), a leading provider of wireless solutions for securing, tracking and managing high-value enterprise assets, has received a series of follow-on purchase orders from Audi AG to expand deployment of I.D. Systems' PowerFleet(TM) Vehicle Management System on industrial trucks at Audi's flagship manufacturing plant in Ingolstadt, Germany.

The Audi Group, one of the world's leading manufacturers of premium cars, including the Audi and Lamborghini brands, is a fully-owned subsidiary of Volkswagen AG, Europe's largest auto maker. In 2011, Audi sold more than 1.3 million vehicles, generating revenue of Euros44.1 billion.

Wireless Vehicle Management Systems (VMS) help improve supply chain productivity by establishing accountability for the use of industrial trucks, such as forklifts, ensuring equipment is in the proper place at the right time, streamlining material handling work flow, and providing unique metrics on vehicle utilization. A wireless VMS also helps reduce fleet maintenance costs by automatically uploading vehicle data, reporting equipment problems electronically, scheduling maintenance according to actual vehicle usage rather than by calendar or manual data entry, and helping determine the optimal economic time to replace equipment. In addition, a wireless VMS helps improve workplace safety and security by restricting vehicle access to trained, authorized operators, providing electronic vehicle inspection checklists, and sensing vehicle impacts.

"We are gratified that Audi is again expanding its use of our VMS technology," said Alexander Glasmacher, I.D. Systems' Managing Director, EMEA (Europe, Middle East, Africa). "We see this expansion as a reflection of the ongoing value that PowerFleet has for Audi in its efforts to make its material handling operations safer, more cost-effective, and more productive."


More from Electrical Equipment & Systems