Safety and Security Enclosures
Attabox® Industrial Enclosures Launches Nine New Product Lines and an Ecommerce Website to Meet the Growing Demands of Electrical Enclosure Specifiers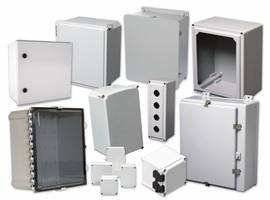 Formed in 2007, with manufacturing based in Temple, Texas, AttaBox® Industrial Enclosures is one of the newest domestic polycarbonate enclosures manufacturers in the United States. A year ago, AttaBox® joined Robroy Enclosures, making AttaBox Industrial Enclosures an integral part of the family of pioneers of fiberglass enclosures.
Today, AttaBox offers a wide-ranging selection of non-metallic enclosures, featuring 10 full product lines encompassing over 800 parts numbers and over 30 configurations along with complementary thermal and standard accessories. The enclosures offer varying benefits of polycarbonate and fiberglass, ensuring the ability to source and achieve protection for every on-the-job need.
The AttaBox® Industrial Enclosure Range Includes:
Heartland Series: AttaBox® original polycarbonate enclosures with unique internal mounting design
Commander Series: Polycarbonate and fiberglass pushbutton enclosures
Freedom Series: Fiberglass enclosures with opaque or acrylic viewing windows
Centurion Series: Fiberglass enclosures with integral flush cover
MachoBox Series: Fiberglass J plus-size enclosures with opaque covers
Triton Series: Large capacity fiberglass enclosures
DuraShield Series: Fiberglass enclosures with shallow, sleek, aesthetic designs
Viking Series: Fiberglass with opaque and clear covers- medium sizes.
BantamBox Series: Polycarbonate enclosure, opaque & clear covers - small sizes
Endurance Series: Fiberglass Euro enclosures - medium to large sizes
Accessories: Filter Fans and Exhaust Filters, Enclosure Heaters, Thermal Controls, LED Enclosure Lighting, Back Panels, Hinges, Vents, and more
AttaBox™ Industrial Enclosures are compliant with all industry standards for water-tightness, corrosion resistance, and even submersible integrity. Certified protection for the most extreme environments or exposure to rain, sleet, wind, fire, UV and direct spray down. AttaBox™ Industrial Enclosures proprietary manufacturing produces products certified for UL508A, UL 50, UL 50E, as well as Canadian National Standard, CAN/CSA C22.2 No. 94.1 and 94.2. Certain items receive a cULus designation in place of the CSA. USA made fiberglass composites are formulated and custom-blended with patented SolarGuard® for unequaled UV resistance.
AttaBox® is an innovative force in the engineering, manufacturing, and marketing of polycarbonate and fiberglass enclosures. AttaBox provides extremely high-quality engineered non-metallic NEMA-rated enclosures for the industrial, solar, electrical, telecommunications, HVAC, Instrumentation/Control, government, Oil/Gas, and construction markets. Attabox enclosures provide UL certified protection for the most extreme environments (impacts, rain, sleet, wind, fire, UV, direct spray). Attabox Industrial Enclosures offer Proven Protection by Design! Attabox is a brand of Robroy Enclosures™ (a subsidiary of Robroy® Industries, serving the marketplace under one family ownership since 1905). www.attabox.com