Atlanta Braves Protect Electrical Gear with Easi-Set Building at Suntrust Park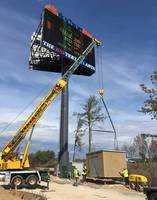 The Atlanta Braves kicked off its 2017 season in its new high-tech Suntrust Park. The protection of the wiring and gear behind the technological aspects of the field are essential to the fans' overall experience, even in the parking lots. In one lot, the stadium's electrical system is housed in an Easi-Set Building supplied by Oldcastle Precast, Newman, Ga.
"Dean Electric had this project finished in time for opening day, April 14, 2017," says Mark Volmer, Easi-Set sales with Oldcastle. "They were looking for a building that was durable and secure and could be delivered fast. They found that with a precast concrete buildling from Easi-Set Buildings."
Dean Electric Co. Inc., Fairburn, Ga., purchased the building from Oldcastle to house the electrical panels and IT systems for the large marquee sign and wireless service at the parking lot. Andrew Dean, project manager with Dean Electric, has worked with Oldcastle on past projects. He chose Oldcastle because he knew they could deliver on-time.
"A precast building had a faster lead time than building an actual building, and we did not need a very big structure," Dean says.
The Easi-Set Building is 12' x 10' x 8' with Easi-Brick walls stained Silk Chocolate to match surrounding apartment buildings adjacent to the parking lot. The roof is a standard design with a white elastomeric coating. The building was placed on a compacted gravel foundation, and it was set in just under an hour.
Precast concrete buildings do not rust, warp, corrode, rot or burn, eliminating maintenance needs. They are fire, bullet, vandal, hurricane and blast resistant. Because the structures are built in factories, site conditions and material delays do not cause schedule delays. In fact, precast concrete buildings save time and money compared to traditional building methods. With built-in floors, no foundations are necessary unless required by local codes. Buildings are delivered pre-assembled, with or without a floor, or placed on a crushed stone base or a pre-poured concrete slab. Each building also can be customized by an Easi-Set Buildings licensed producer to meet a project's specific requirements.
"Our licensed producers are located across the country, so contractors can work with local professionals," says Moffette Tharpe, managing director of Easi-Set Worldwide. "Oldcastle and the team of licensed producers collaborate with their customers from pre-design through installation to ensure the quality and integrity of each building."
Discover more about Easi-Set Buildings and its network of licensed producers at www.easisetbuildings.com or by calling 800-547-4045.
Easi-Set Worldwide, a wholly-owned subsidiary of Smith Midland Corporation, a public company, licenses the production and sale of Easi-Set products and provides diversification opportunities to the precast industry worldwide. Easi-Set's pre-engineered buildings are designed to provide durability, convenience and long-lasting security under a variety of applications. These maintenance-free structures are available through licensed precast concrete manufacturers across North America. Each producer manufactures Easi-Set's Buildings with the patented post-tensioned roof and floor system to guarantee a weatherproof structure. For more information about Easi-Set Worldwide or licensing opportunities, contact Easi-Set by calling 800-547-4045 or visiting www.easiset.com.
Oldcastle Precast Inc. has more than 80 locations nationwide with 3,000 employees. Products range from utility vaults, reinforced concrete pipe, catch basins, drainage and septic tanks to retaining walls, storm shelters, wall panels, concrete barriers and more. Employees are committed to upholding core values of reliability, quality and service in cutting edge ways. Visit www.oldcastleprecast.com or call 888-965-3227.
Contact This Company Download Spec Sheet
More from Sensors, Monitors & Transducers