ATI Showcases New Products and Solutions at Automate 2017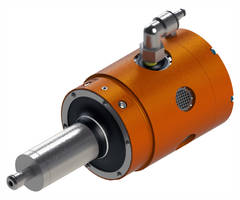 Visit ATI at Booth #N-1621, April 3-6, McCormick Place, Chicago, IL
Apex, NC , February 25, 2017 The 2017 - Automate Show and Conference takes place at Chicago's McCormick Place April 3-6, and is a biennial event boasting the largest showcase of solutions-based automation technologies in North America. Companies from around the globe will represent a wide variety of industries ranging from Automotive Manufacturing to Telecommunications. Whether you are researching automation technology, seeking to grow your customer base, or exploring new automation solutions, Automate 2017 makes it possible. ATI will feature several large robotic demonstrations in their exhibit (booth #N-1621) in addition to the following new products:
The RC-900 and RC-1040 Radially-Compliant Deburring Tools feature the same air-actuated compliance as existing models, but offer a higher power motor that is 50% more powerful than the RC-660. ATI's RD-390-NL offers significantly lower-speed, radially-compliant deburring, and runs at 2800 RPM while under load and 5600 RPM under no load. It also features a no-lube motor which eliminates the need for an exhaust air oil extractor. All three new models can convert from full-radial compliance to single-axis compliance.
The new QC-46 Tool Changer is extremely lightweight-only 6.5 lbs (2.98 kg)-and has a very low stack height of 2.61 inches (66.3 mm). It utilizes the same proven Locking Mechanism as the QC-40 Tool Changer, and handles payloads up to 110 lbs (50 kg). The QC-46 can accommodate up to seven separate utility modules to handle a large variety of signals, fluid, air, and other requirements. The QC-46 also features optional internal Lock/Unlock sensing and direct mount to robots with a 100 mm ISO pattern.
ATI's Modular Tool Stands maximize flexibility with ATI's wide range of Robotic Tool Changer models. The modular system concept allows you to "build your own" tool storage rack based on the number of tools, positioning, orientation, and mounting arrangements required. ATI will have a large variety of Tool Stand options on display.
The Axia80 Force/Torque Sensor is a lower-cost sensing solution that maintains the quality and accuracy found in all of ATI's Force/Torque Sensor products. All the electronics are built into the transducer body which keeps the cost down and footprint smaller, while excelling in accuracy, resolution, and robustness. The Axia80 will be available in Ethernet and EtherCAT versions and will feature a high signal-to-noise ratio and high overload protection, between five and 20 times over the sensing range.
Catherine Morris, Director of Automotive Sales at ATI and current chairperson of the Automate Show Committee, encourages all to make plans now to attend Automate 2017. She feels strongly that this is the one show anyone in our industry cannot afford to miss. "Automate showcases the full spectrum of automation technologies and solutions. If you are looking for automation solutions for any application challenge, you will find them at this show!" She goes on to say, "There are several things I look forward to in an Automate show each year. There is the conference where companies get practical guidance on how to successfully apply automation. The expert huddles, held right on the show floor, where attendees have a great opportunity to discuss specific topics of interest with industry experts. Most of all, I always look forward to meeting the attendees that are new to automation. Seeing them get excited about the possibilities of becoming more competitive and productive is what our business is all about."
ATI Applications Engineer, Dan Merritt, will act as Huddle Referee and lend his expertise on the topic of Automated Material Removal. Be sure to catch up with Dan during the show to discuss your questions. This year's show at McCormick Place will be the largest Automate event to date. Catherine, Dan, and the rest of the ATI team look forward to seeing you in Chicago this April; be sure to stop by booth #N-1621 during your visit to Automate 2017!
ATI Industrial Automation
1031 Goodworth Drive
Apex, NC 27539 USA
+1 919-772-0115
+1 919-772-8259