ATI Industrial Automation's Force/Torque Sensor System Provides Plug-and-Play Connectivity to Stäubli Robots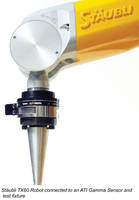 ATI Industrial Automation's Networkable Force/Torque Sensor System (Net F/T) is now fully compatible with Staubli Robots. The coordinated effort between ATI, Apex, N.C. and Staubli Robotics, Duncan, S.C. provides true plug-and-play connectivity via Ethernet to Staubli's CS8 robot controllers. The Net F/T transducer with Net Box interfaces to a Staubli robot controller via a TCP/IP socket and optional VAL3 library which reads force values enhancing manufacturing automation.

Forces and torques are measured by the sensor at the wrist of the robot giving it a sense of touch. Together, the cost-effective robot and sensor make it possible to automate difficult assembly, machining and finishing tasks that previously required skilled personnel or complex assembly machines. The Net F/T Sensor System measures six components of force and torque (Fx, Fy, Fz, Tx, Ty, Tz) and is available on any of ATI's Force/Torque Transducers, and helps to optimize end-user robotic applications. ATI's Six-Axis Force/Torque Sensors were designed to work with a variety of robots.

Net F/T Details

The Net F/T Sensor System provides an Ethernet and a CAN bus communication interface. Its EtherNet/IP(TM) interface is fully ODVA-compliant. The Net F/T Sensor System is powered by either Power over Ethernet (PoE) or by an external power supply (11VDC to 24VDC). The Net F/T's interface (Net Box) is sealed to IP65 (water splash-proof), and its transducer and cable can be sealed to IP68 (submersible in fresh water to 10 meters). Multiple transducer calibrations can be permanently stored in the system for user selection.

The Net F/T system provides a variety of advantages over conventional systems, including: Cable-break Detection; Multiple Interfaces; LAN Connectivity; High-speed Output; Web-based Configuration and Demo; Programmable Thresholding; Built-in Status Indicators; Overload Protection; Tool Transformations; Temperature Compensation and High Signal-to-Noise Ratio.

ATI Industrial Automation celebrates their 20 year anniversary as a world-leading engineering-based developer of robotic peripheral equipment, including Automatic Tool Changers, Multi-axis Force/Torque Sensing Systems, Robotic Deburring Tools, Robotic Collision Sensors and Compliance Devices. ATI's engineering department, the largest of its kind for a robotic tooling company, is focused on developing cost-effective, state-of-the-art products and solutions that improve robotic productivity.

Staubli Robotics, part of the Staubli Group, is a leading player in automation around the world.

For more information about the Net F/T Sensor System and other ATI products, contact ATI Industrial Automation, 1031 Goodworth Drive, Apex, NC 27539, phone 919-772-0115, fax 919-772-8259, www.ati-ia.com. For more information about Staubli Robotics contact www.staubli.us.

More from Architectural & Civil Engineering Products