ASG Announces X-PAQ(TM) Firmware Update and New Right Angle Tools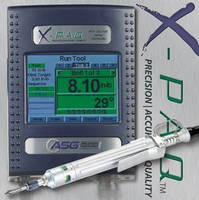 Many new features and products available in the Precision Fastening Product Group.

Cleveland, - ASG is pleased to announce upgrades and additional product enhancementss in the Precision Fastening Product Group.
X-PAQ(TM) Precision Fastening System Firmware Update
ASG X-PAQ(TM) Precision Fastening System v2 firmware has been released. This upgrade contains many improved and exciting features including:

· Task Updates

- Available tasks doubled from 6 to 12.

- Task settings can be exported to USB for backup or transfer to another controller.

- Individual bolt parameter assignment doubled, now up to 50 bolts.

- 'Forced Retry' option requires any failed bolt to be successfully retried before continuing to the next fastener.

· Parameter Changes

- Prevailing torque calculation option now included in Angle Control strategies.

- Prevailing torque compensation now possible on torque control strategies when preceded by an Angle Control strategy with the prevailing torque calculation option enabled, allowing for proper clamp force to be achieved in self-tapping or locking helical insert applications.

· Additional Outputs

- Tool Triggered and In-Cycle Outputs (Torque > Threshold) now available, very useful for machine integrated applications.

· Easier Updates

- GUI firmware is now upgradable with a USB flash drive with v2.x.x.x so future updates can be performed quick and easily.

Additional updates are ongoing. Updates soon to be released for v2 firmware include:

· 2-way communication - Inputs can be sent to the NW2500 network module and outputs can be sent from it to the network, it will no longer be necessary to have a PLC in station to handle I/O integration.

· Torque curve graph data exportable to USB, helpful during setup and for record retention.

· Output status monitor on the 'Run Tool' screen.

· Reverse function disable.

Right Angle SD2500 Tools Now Available

ASG Precision Fastening introduces new RP and RQ style tools. The RP style tool features a ¼-inch square drive with pin detent. The RQ quick-change style tool features a ¼-inch hex drive. Each style is available in four torque ranges with a maximum torque of 10 in-lb, 20 in-lb, 35 in-lb, and 50 in-lb, and runs with the X-PAQ(TM) controller without the need for any modification. Right angle tool and complete X-PAQ(TM) System pricing is available through ASG Customer Service at (888) 486-6163, or through an ASG Precision Fastening Distributor.

Foam Grips Now Included with All SD2500 Tool Purchases

Our popular foam grips are now included free of charge with each tool purchase. Our PL style tools include the foam grip featuring a cutout to accommodate the lever, while PS and FX style tools include the non-cutout grip. Spare or replacement grips are still available for purchase.

About ASG

ASG has been offering products and solutions for light assembly since 1976. A complete line of torque control products and precision fastening equipment is offered through ASG Assembly, Industrial, and Precision Fastening product groups and includes electric and pneumatic torque control drivers, automated fastening systems, torque testers, work station accessories, precision screw feeders, automatic tape machines, the X-PAQ(TM) System, and more.

More from Thermal & Heating Equipment