Arcil is Proud to Present the A7 : the Next Generation FFS Machine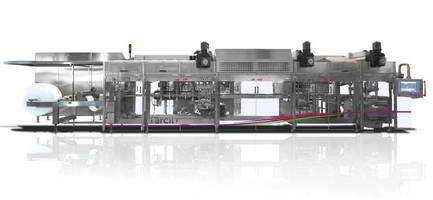 Less than a year after it joined Barry-Wehmiller Companies, Arcil is launching a new generation of FFS machines that results from a completely revised design method.



Assigned to the widest multidisciplinary team ever in Arcil's history, the project was brought to life within 9 months and sets the guidelines of the french company's future development.



Relying on Arcil's fundamentals, the A7 is an highly competitive state-of-the-art equipment that brings maximum flexibility in desserts and fresh dairy products manufacturing.



The very best of Arcil's expertise as a standard



The A7 was born in the mind of Arcil's salesteam as a top-class solution for the demanding dairy market industry. Since the very early stage of the project, the A7 was assigned the task to retain the best of Arcil's efficiency and hygiene in a modular, flexible and evolutive FFS machine with fully mastered design. The aim was here to offer an highly competitive state-of-the-art equipment while reducing the delivery lead time that applies to the tailor-made packaging lines usually designed by Arcil.



Customer insight and design to cost were the two guidelines that the multidisciplinary team set up for the project had to stick to at all stages, and that led to the successful development of this next generation FFS machine in 9 months only.



Maximum on-site flexibility for immediate response to market changes



The A7 has been designed to allow on-site capacity and cup size adaptation, so that manufacturers can react quickly to new markets requirements and reduce the global downtime of their lines. In 10 days only, the line can for example evolve from 24 to 32 cups per stroke or process 63x63 mm cups instead of 48x48 mm ones.



The A7 is also prefitted to process any kind of plastics (PS,PLA,PET or PP) as the standard heating frame accepts up to 9 pitches.



Finally, the A7 does not require to anticipate the need of additional dosing units, as a modular frame allows to easily extend the filling station when needed.



User-centric design: improved ergonomics



Sticking to operator's well-being as a core value, Arcil's development team endeavoured to improve ergonomics wherever possible. The A7 provides more transparency for a better visibility as well as an easier access to all intervention areas. Handling operations are all carried out at chest height for a better comfort. For example, in order to simplify the unreeling path of the lid and improve visual checking, a camera placed at the right place relays the checking picture on the HMI screen.



Gifted with numerous talents



The A7 is gifted with the individual talent of every member of the project team, a blend of young and older open-minded staff members with a large variety of backgrounds and technical skills. Their work raised enthusiasm amongst their colleagues who, together with partner suppliers, were invited to participate by sharing their ideas. This extended collaboration pushed the team beyond its creative limits and resulted in additional innovations. Just to name one, Arcil's machines are now more simple to move around the world, as they are composed of 3 modules that can easily be disconnected for transport purposes.



With 350 FFS machines installed all over the world, Arcil has established itself as the world leader for single portion, ultra-clean packaging of milk products and desserts.



The delivery of the first A7 has been celebrated by the entire company as a decisive step towards an ambitious future.



Sales contact in the USA:

Vincent Altazin 

via@arcil.fr

sales@synerlink-engineering.com



web sites:

www.Synerlink-engineering.com

www.arcil.fr



About Arcil



Arcil designs and manufactures state of the art integrated Form-Fill-Seal packaging lines. With more than 25 lines delivered every year in 5 continents, Arcil has been since 2005 the world leader for single portion, ultra-clean packaging of milk products and desserts.



With its business partners – design, filling, outer packaging and end-of-line – Arcil developed the Synerlink organisation to provide its customers with international solutions, ranging from studying the customer's marketing brief to putting full industrial production lines into service and guaranteeing long-lasting performance.



Arcil has become a Barry-Wehmiller Company in late 2013 and Synerlink forms the 6th Packaging Division of Barry-Wehmiller Group.



Press contact person for Arcil Synerlink: Dominique Bouchet, communication leader

Tel: +33 1 30 15 30 01

Email: dbouchet@synerlink-engineering.com



About Barry-Wehmiller



Barry-Wehmiller Companies, Inc. is a diversified global supplier of engineering consulting and manufacturing technology solutions in packaging, corrugating and paper converting across a broad spectrum of industries.



In fiscal year 2013, Barry-Wehmiller leveraged a strategic combination of organic and acquisition growth to achieve revenues surpassing $1.5 billion. Barry-Wehmiller now employs nearly 7,000 team members in more than 65 locations worldwide.





More from Materials