Architecturally Striking Monde Condominiums Feature 148,000 Square Feet of AGC Glass Products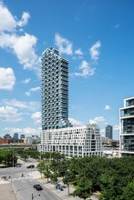 Toronto mixed-use structure reimagines waterfront living, blending aesthetics and performance
Alpharetta, GA. December 12, 2019 – The East Bayfront Precinct along the attractive Toronto waterfront is experiencing rapid redevelopment and redesign to make the stretch of land amenable for residents and visitors. This burgeoning neighborhood is morphing from purely industrial to mixed-use, to feature stunning apartments, retail, entertainment, and more.
Monde is an architecturally arresting, 44-story condominium project, featuring a designed curtainwall system, stepped with balconies for private resident access to the outdoors. A combined 148,000 square feet of AGC ENERGY Select® 36 and ENERGY Select R42 achieve the distinct geometrical profile presented by the structure.
"ENERGY Select 36 is a higher performing, double silver, low e coated glass that offers natural soft grey blue aesthetics, enhancing the building's façade," says Jeff Dewaal, architectural glass manager, ACG Glass North America. "Combined with ENERGY Select R42, the two not only achieve a beautiful profile – they also contribute to top energy performance and efficiency."
ENERGY Select low-e products deliver highly-customized purpose and value for commercial building applications. This spectrally selective glazing allows architects, designers, specifiers, and window fabricators to customize solar heat gain, insulating value, and visible light transmission levels – while also realizing an aesthetic vision.
An outstanding solar heat blocker, ENERGY Select 36 is designed for regions where air conditioning is the primary energy source. The product provides warm-weather energy efficiency, a beautiful appearance, and high light transmittance levels. 136,000 square feet of ENERGY Select 36 was used and its grey-blue appearance contrasts beautifully with the reflectance of the ENERGY Select R42 glass.
ENERGY Select R42 presents an aesthetically-neutral high reflectance and a low solar heat gain coefficient, making it ideal for high-rise applications. 12,000 square feet of ENERGY Select R42 brings life to the structure, enabling the façade to possess a uniform appearance from suite to suite.
The terraces created with glass unite the outdoors with the apartment interiors, maximizing the proximity to Lake Ontario and encouraging greenery on every floor. The building was truly designed with green living and tenant experience of nature in mind.
In its entirety, Monde spans 540,000 square feet and is located directly next to Sherbourne Common, which is known for its water channel and sculptures.
The Monde architect was Moshe Safide and Quadrangle, and the developer was Great Gulf. The general contractor was Tucker Highrise Construction, and AGC Glass products were installed by BV Glazing systems.
About AGC Glass North America
AGC Glass is the world's largest manufacturer of glass and glass-related products. The company offers the widest range of flat glass for architectural, interior, and residential applications. AGC Glass North America is part of the AGC Group, employing more than 50,000 worldwide in approximately 30 countries. As a global company, AGC leverages its many resources to develop innovative new products and to offer world-class service that is second to none. AGC glass products are available through an extensive network of glass fabricators and window manufacturers in the U.S. and Canada. To learn more, visit our website at www.agcglass.com.
Contact:
Nick Murosky – LarsonO'Brien
412-347-8039| nick.murosky@larsonobrien.com
More from Fluid & Gas Flow Equipment