Aqueous Technologies to Exhibit Its Flagship Trident System at SMTA International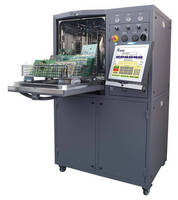 RANCHO CUCAMONGA, CA - Aqueous Technologies Corp., North America's largest provider of batch defluxing systems, will highlight its flagship Trident system - the Trident LD - in booth #227 at the upcoming SMTA International Conference and Expo, scheduled to take place Tuesday October 16 and Wednesday, October 17, 2012 from 9am-5pm at the Walt Disney World Dolphin Hotel in Orlando, FL.

With the award-winning Focus Wash technology and a Windows-based PC computer, Trident LD is the cutting-edge automatic defluxing and cleanliness testing system. The powerful control system will constantly monitor the real-time cleanliness of the assemblies and automatically modify the cleaning cycle accordingly. Trident LD comes standard equipped with more valuable features and capabilities than any other batch format defluxing system.

A powerful multi-impeller stainless steel pump delivers precisely controlled fluid to 20 rotating stainless steel spray nozzles. The nozzles are designed to reduce the fluid droplet size for improved under-component penetration. Additionally, Trident LD is equipped with an onboard cleanliness testing system that allows a user to program a desired cleanliness level.

Also at the show, company representatives will demonstrate the new Advanced Statistical Process Control (A-SPC) software. Trident's A-SPC software provides bar-code scanning capabilities, allowing the user to scan the barcodes of boards being loaded into Trident. Trident will then correlate all of the process data including set and actual cleanliness values to the board's serial numbers for valuable historical process data. Advanced search capabilities allow a user to search SPC data records based on date ranges, cleanliness pass/fail values, and board serial numbers. This feature is unique to Trident and is not available on any other defluxing system.

For more information about any of Aqueous Technologies' cutting-edge products, stop by SMTA International booth #227 or visit www.aqueoustech.com.

About Aqueous Technologies Corp.

Founded in 1992 and headquartered in Rancho Cucamonga, CA, Aqueous Technologies Corporation is North America's leading manufacturer of aqueous cleaning systems. Aqueous Technologies manufactures batch-format aqueous cleaning/defluxing systems. Aqueous Technologies also manufactures ultrasonic stencil cleaning systems, PCB and stencil cleaning chemistries and the Zero-Ion ionic contamination (cleanliness) tester. Aqueous Technologies' products have won more than 40 industry awards. Visit the company on the Web at www.aqueoustech.com.

More from Computer Hardware & Peripherals