APEM Now Offers Mil-Spec Toggle Switches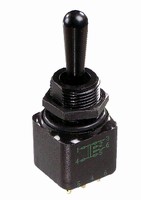 Solving difficult switching problems for industries that require the highest specifications in durability and safety

Haverhill, MA, - APEM Components, Inc., a leading manufacturer of high quality miniature and industrial switches, has been granted QPL certification for its 12000X778 series of professional grade toggle switches. This family of switches is ideal for use in military, aerospace, and industrial applications requiring high performance and extreme reliability.

The 12000X778 toggle switch is QPL certified to MIL-DTL-3950G under M3950/15, M3950/16 and M3950/17, covering two, three and four pole configurations. This switch features a double shell case for superior mechanical strength and electrical insulation and a pinned lever for added strength and to ensure a strong electrical ground to the bushing. The 12000X778 toggle switch has a front panel sealing that meets IP67 specifications.

Reliability and long life is obtained through electrical contacts made from gold plated, solid silver alloy rivets. The switch is suited for both low level applications (10mA 50mV) and power applications (2A 250VAC - 4A 125VAC) with an electrical life of 20,000 to 150,000 cycles. Available with both solder lug and printed circuit terminals, all models feature a rugged 15/32" mounting bushing. An optional locking lever actuator provides the utmost in protection against non-deliberate actuation. The switch is also offered with an optional white fluorescent tip for visibility in low lighting environments.

About APEM
Since 1952, APEM has been a leader in the manufacturing of high quality, miniature and industrial switches. Offering one of the broadest product lines on the market, APEM's switch line includes pushbuttons, rockers, slides, DIPs, rotaries, tacts, keylocks, pushwheels and snap-action switches. APEM also provides a wide range of industrial controls, membrane switches, panels, and keypads. For more information about APEM or its broad line of products, contact APEM Components, Inc., 63 Neck Road, Haverhill, MA 01835 at 978-372-1602 or visit the company's website at www.apem.com.

More from Agricultural & Farming Products