AnoBlack EC: Two-Step Anodizing for Medical & Aerospace Components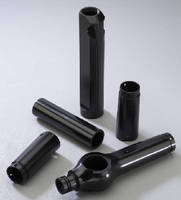 AnoBlack EC provides electrolytic blackening (2-step anodize) using inorganic metallic salts in lieu of organic dyes. A 100% smut-free coating that will not fade under extremes of light or temperature. Meets MIL-A-8625, Type II, Class 2 for black sulfuric anodized aluminum.

Applications:

Optics/Optical

Medical Devices & Instruments

Aerospace components/spacecraft parts

Semiconductor and electronics

Key Advantages:

On 6000 and 7000 series aluminum, AnoBlack EC will withstand 500F for one hour without any degradation.

Black color is largely independent of anodic film thickness - so color depth remains consistent even on thinner coatings

Since 1960 Anoplate Corporation has provided quality metal finishing services to the industrial marketplace. With over 90 different finishes offered, our clients include major aerospace manufacturers, medical device companies, defense firms and precision machine shops. Anoplate is ISO certified and Nadcap accredited for chemical processing.

More from Fasteners & Hardware