Anastasia's Restaurant and Pizzeria Finds the Perfect Recipe with the Hyperion LED Display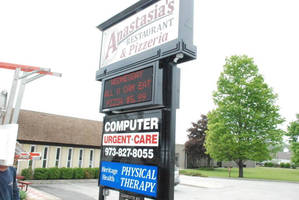 Anastasia's Restaurant and Pizzeria has some of the best food in all of New Jersey.  From children's meals, to specialty pizzas, to a flavorsome pulled pork dinner, Anastasia's has a great variety with great quality. So, how does Anastasia's communicate their finest foods customers?  With their new Hyperion LED display.  Electro-Matic Visual and EM Signs teamed up to give Anastasia's the ultimate experience and the best advertising medium.



"It turned out great and so far we have been happy with how easy it is to change to board." -Mary Jean Negri, Owner



Anastasia Pizza

This incredible display is the perfect way for Anastasia's to communicate specials, awareness and generate overall business.  The Hyperion LED display provides bright, sharp images, in red or amber, that attract anyone passing by.  Anastasia's 16mm, Hyperion LED, display will reach out to new customers and raise awareness with a dynamic and cost effective approach.



"Our client was interested in dressing up the existing sign, and adding a LED reader board. So the combination of elements and restrictions led us to retrofitting one of Hyperion's mono red units. The combination of cost effectiveness, quality and features is what eventually led us to choosing this unit." -Dave Diesel, EM Signs, LLC



Electro-Matic is extremely excited to have their Hyperion LED display installed at Anastasia's Restaurant Pizzeria. This easy to maintain, change and program, Hyperion LED display, provides Anastasia's with another outstanding communication tool contributing to their success. 



"We want to thank Dave and Ron from EM Signs for introducing us to the Sparta, NJ area.  We enjoyed supporting their efforts on this project.  We are excited for this blossoming partnership."  -Jason Sluyter, Visual Products Sales, Electro-Matic Visual, Inc.



More from Agricultural & Farming Products