American Crane Can Meet Your Coating Requirements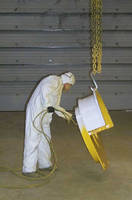 American Crane's Coating Specialists are:

EXPERIENCED - Our Coating Technicians have applied numerous coating systems including Epoxy, Enamel and Zinc rich formulations.

QUALIFIED - All our Coating Inspections are performed by Certified Coating Inspectors and surfaces/coatings are prepared in accordance with various SSPC Standards (including near white blasting to SSPC-10) in addition to stringent Nuclear Quality requirements.

FLEXIBLE - We will perform Coating Services at specified site locations.

THOROUGH - Our Coating Technicians verify proper surface preparation, monitor environmental conditions (to prevent coating failures), and inspect for dry film thickness.

For more information about our coating services

http://store.americancrane.com/asset/603-CoatingAndCoatingInspectionServices-lowres.pdf. Visit or visit www.americancrane.com , email sales@americancrane.com or call us at 1-877-877-6778 to learn more about our products and services.

More from Fasteners & Hardware