Ambrell Delivers Preheating Solutions to Oil and Gas Well Drill Bit Manufacturers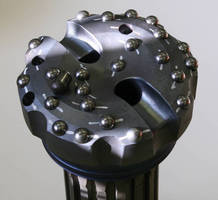 Drill bit manufacturers are finding that induction is an efficient method for rapidly
preheating drill bits to temperature.

Cottsville, NY - Ambrell, an Ameritherm company and a leading manufacturer of induction heating systems, has recently delivered systems to leading drill bit manufacturers. The drill bits commonly range from 203-508mm (8-20") in diameter. The systems are used to preheat drill bits to temperature to enable brazing of the cutter inserts into drill bits.

Most commonly, drill bits are heated to approximately 600°C (1100°F) for this application. Then a torch is used to raise the temperature of each individual joint to 790°C (1454°F) to flow the braze. These inserts are most commonly polycrystalline diamond compact (PDC) or tungsten carbide inserts (TCI). 40 to 60 inserts are typically brazed onto each drill bit.

Over time, these PDC or TCI inserts will wear out, as they are the cutting portion of the drill bit. Consequently, they need to be replaced, and induction heating is commonly used to facilitate this process. Induction can heat up the drill bit, which allows the inserts to be removed. Then, induction can be used once again for preheating prior to brazing.

Ambrell's most recent drill bit client leveraged its Applications Lab for a free half-day of testing. During the application testing, the lab worked with the client and proved that Ambrell's induction heating solution would be effective. Based on the results of their testing, the client purchased an EKOHEAT 50kW/10kHz system and has since successfully implemented it into their facility.

The client previously used an oven to preheat the drill bit, but found induction saved considerable time, was more energy efficient and introduced less heat into the work environment. Ambrell's line of EKOHEAT induction heating systems offer power between 10 and 800kW, and their versatility and energy efficiency (with a power factor over 0.90) set them apart from the competition.

Ambrell has helped oil/gas companies with numerous applications, including pipe bending, pipe coating curing, drill pipe heat treatment and preheating drill bits for brazing. For additional details about Ambrell, call +1 (585) 889-9000 or visit largepipe.ambrell.com.

About Ambrell

Since 1986, Ambrell has been a leading United States manufacturer of induction heating systems. Products are CE certified and manufactured in an ISO9001:2008 certified facility to ensure the highest quality equipment. With a focus on superior heating solutions and service with a prompt response, prospective customers can leverage its Applications Lab to ensure systems are built to their heating requirements, and then rely on superior support throughout their relationship with Ambrell. Ambrell has installed over 10,000 systems in more than 50 countries.


More from Test & Measurement