Alumiline® HO LED for T-12 Retro-fits, Canopy Lighting & More!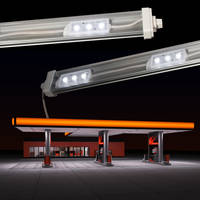 PACOIMA, CA (January, 2017) – JKL's Alumiline® HO series T-12 Retro-fit is a great solution for replacing old T12 lamps or for new installations. Fitted with an R17d base, Alumiline® HO is designed to operate on 24VDC, permitting safe and easy Class II wiring. The straightforward installation allows existing T-12 R17d lamp holders to be used for mounting. Available in 2ft-8ft lengths, up to 24 feet can be operated in series, offering savings on materials, power supplies and installation labor.
These UL listed and IP67 rated fixtures are suitable for both indoor and outdoor applications. The Alumiline® HO LED is the perfect solution for upgrading signage and lighting canopies. A color output of 6500° Kelvin offers exceptional color rendition for canopy films and the 160° lens design provides excellent uniform backlighting in applications with limited depth. The HO's unique rib design gives a rigid linear support which eliminates the need for clips, snaps or strapping. It also optimizes thermal control aspects to maximize the long lifetime required for difficult locations.
The Alumiline® HO is part of JKL Components Alumiline® series of linear LED products. WWW.ALUMILINELED.COM
Contact the sales team at JKL Components for your project design and customization possibilities. Established 1972, JKL Components Corporation offers quality lighting solutions utilizing a wide variety of lighting technologies, including LED, incandescent, fluorescent, ultraviolet and gas-filled lighting. JKL is registered ISO-9001. For additional information, contact JKL Components Corporation, 13343 Paxton Street, Pacoima, CA 91331. Telephone (818) 896-0019. Email sales@jkllamps.com. www.jkllamps.com
tel: (818)896-0019
email: sales@jkllamps.com
Contact:
Sherry Carpenter,
General Manager
(818) 896-0019 x 125
email: pr@jkllamps.com
More from Services