AJG Packaging to Introduce New Line of Giflor Eco Low Profile Closures at Luxepack, New York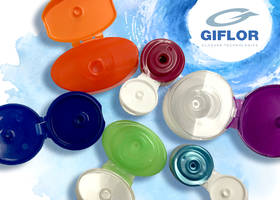 (Flemington, NJ – May 2019) AJG Packaging, a leading provider of unique and noteworthy packaging delivery solutions, is introducing the innovative line of Eco Low Profile injection-molded closures from Italian-based manufacturer Giflor Closure Technologies. These new, very low-profile dispensing caps, available through AJG Packaging are noteworthy because of their range of shaping options, aesthetic superiority and eco-friendliness. Thanks to a virtually unlimited range of options and choices, rigid plastic containers can now be paired with an Eco Low Profile closure of similar shape style, whether oval, square or custom in form. Giflor will be featuring the Eco Low Profile closures during Luxepack, New York, May 15-16 at the Javits Center, Booth #E07.
Developed by award-winning Giflor, Eco Low Profile closures feature a patented design available in both classic and innovative shapes, as well as custom configurations. The different types of closures are designed to be used with extreme simplicity and can be configured to meet the needs of different industries. The additional "click sound" of the closure system indicates that the cap is tightly closed. Made of only the highest quality materials, Eco Low Profile closures have an intuitive, consumer-friendly ergonomic design and can be ordered in a variety of shapes, sizes and more than 350 standard colors. Available foil liners prevent the product from getting in contact with air, thereby maintaining freshness and extending shelf life.
"Today's brands require packaging with a strong aesthetic impact, capable of providing brand personality and improving the sales performance of the final product, as well as ensuring maximum functionality," states AJG Packaging CEO, Matthew Grimaldi. "These closures get high marks in every single category."
Food Products
Available in the Screw-On and Snap-On versions, with bore seal and Crab Claw (a system that allows the optional application of a protective foil gasket), Flip-Top or disc-top/push-lock opening, Giflor's injection-molded plastic closures for the food sector are the ideal solution in terms of compatibility with products such as sauces and condiments.
Cosmetics & Personal Care
Eco Low Profile airtight caps for shampoos, conditioners and moisturizing creams are available in the single- and two-color versions, with the full range of more than 350 colors from which to choose. These molded plastic caps for packaging cosmetics are made of polypropylene copolymer, a material that offers excellent resistance to humidity and cold, as well as good chemical resistance to acids, alkalis and solvents.
Sustainability
Designed to minimize environmental impact, Eco Low Profile closures are processed and manufactured using the latest machinery and equipment, significantly reducing energy consumption and the amount of raw materials used. Grimaldi concludes, "For brands that want to create a dramatic impact at the point of sale and in the home, while providing an exceptional consumer experience with eco-friendly advantages, these closures absolutely deliver."
About AJG Packaging
AJG Packaging is a family-owned company providing a full range of packaging solutions for projects of all sizes in a variety of industry sectors that include pharmaceutical, personal care, health and beauty, food, beverage, household and others. Headquartered in Flemington, New Jersey, AJG Packaging serves a long list of clients both domestic and international with innovative, patented and sustainable packaging and manufacturing services.
For more information, please visit: www.ajgpackaging.com.
For additional press information, please contact:
Ed Delia, Delia Associates
T: 908-534-9044
More from Chemicals & Gases