AirLoc Damping Pads Help "Quiet the Wind" for Residential Wind Turbine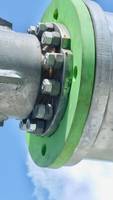 AirLoc was contacted by Maurice Ramirez, DO, PhD, of Aeolian Wind Technologies, LLC to help reduce structure borne noise in a 15Kw small wind turbine installed in Non-Coastal Florida.
The hollow steel tower was initially displaying vibration amplification of up to 90 dBA., Even with various noise mitigating alterations, max sound pressure was still measuring 52 dBA, well in excess of local noise ordinances.
AirLoc damping pads were custom cut per engineering drawings and installed with AirLoc ISOWashers at strategic transmission points on the tower.
AirLoc 725 high damping pad was cut to fit between the metal mounting plates under the nacelle at the top of the tower
AirLoc ISO-Washers at the nacelle flange mounting points
AirLoc 905 pad was installed at the hydraulic hinge plate located near the bottom, as shown in the pictures below.
Tower noise was reduced to 38 dBA with the help of AirLoc ISO Pads and additional acoustical insulating components.
Maurice also reported the operating tower was so quiet, tests had to be halted due to noise contributed by "seasonal mating crickets"! AirLoc damping pads have certainly help Aeolian Wind Technologies "Quiet the Wind"!
AirLoc manufactures a wide range of elastomeric and composite pads for vibration and shock isolation, structural noise reduction, and leveling of equipment.
Let AirLoc help provide a cost effective, isolation/damping solution for your application. 
More from Packaging Products & Equipment